Content Marketing vs SEO: The Difference & Relationship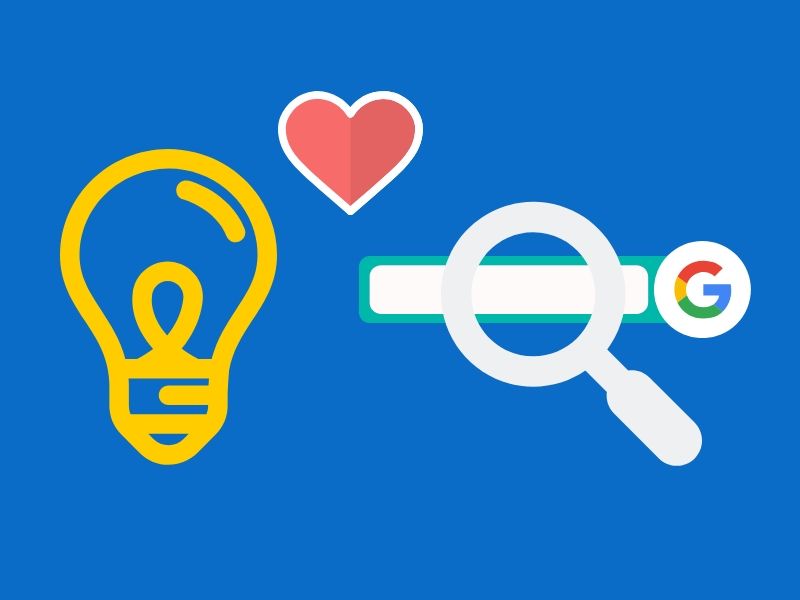 Often times, people confuse the relationship between content marketing and SEO. They are commonly interpreted as two completely different marketing methods.

Most importantly, people think that they have no connection with each other. The truth is, this is wrong.
Content marketing and SEO are two marketing form, that completely overlaps and related to one another.

To explain this, Let's dive into the details.
What is SEO

SEO stands for Search Engine Optimization. It's a process of affecting the online visibility of your website or web pages when searched using search engines like Google, Bing, Yahoo, etc.
In order to get ranked by the search engines, you need to perform certain optimization procedures on the content and website as a whole.

The basic includes:
Target market analysis
Keywords research and development
Content creation and optimization
Process tracking and continuous improvement
Click here to completely understand SEO with complete SEO guide.
What is content marketing
Content marketing is one of the forms of marketing which focuses on the creation, publishing, and distribution of content.

This is often used by businesses as a way to attract, generate leads and make sales. This form of marketing heavily relies on marketing psychologies and the science of persuasion.

One of the most popular implementations of content marketing is copywriting.

So, from the above definitions, you must have noticed that both require content right? But there is just more than that.

Before we learn how are they related, let's understand a couple of their differences.
Differences between content marketing and SEO
1. Audiences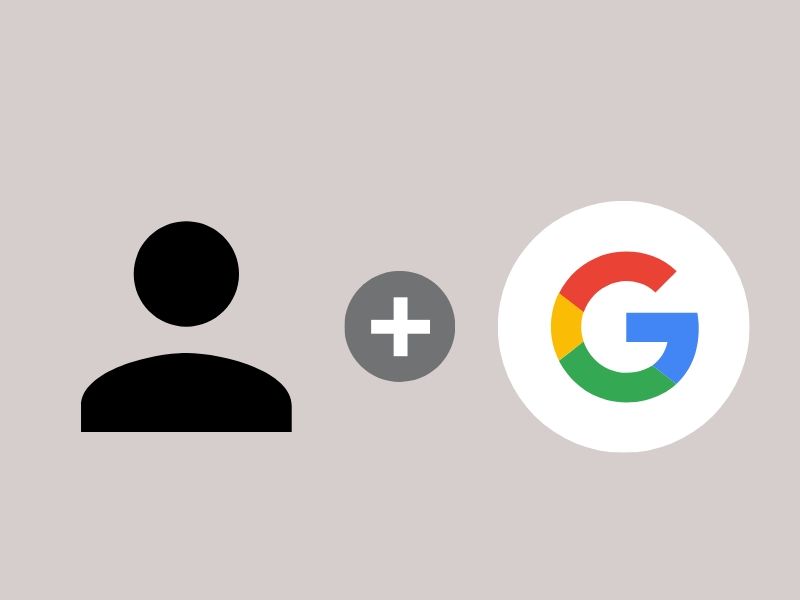 Although the two marketing forms focus on humans, SEO has an extra audience i.e search engines.

When creating content, SEO requires you to keep in mind what works for search engines as well. This needs basic knowledge of how search engines and crawlers work in general.

When it comes to content marketing, the creation of content is done by keeping the target audience in mind. This requires a basic understanding of human psychology as a way of persuasion.
2. Approaches
There are slight differences between how we approach these two. With SEO, you tend to focus more on the analytical side. For example, it requires you to use tools like Google Analytics, keywords research tool, Google trends, etc.

On top of that, SEO is a continuous process of testing and development. So it certainly requires you to keep track of what works and what doesn't and improve things as you go along the process.

On the other hand, content marketing focuses on making the content work for the audiences. There is no "winning formula" to succeed. It all depends on creativity which requires practice, experience, and skills.
3. Goals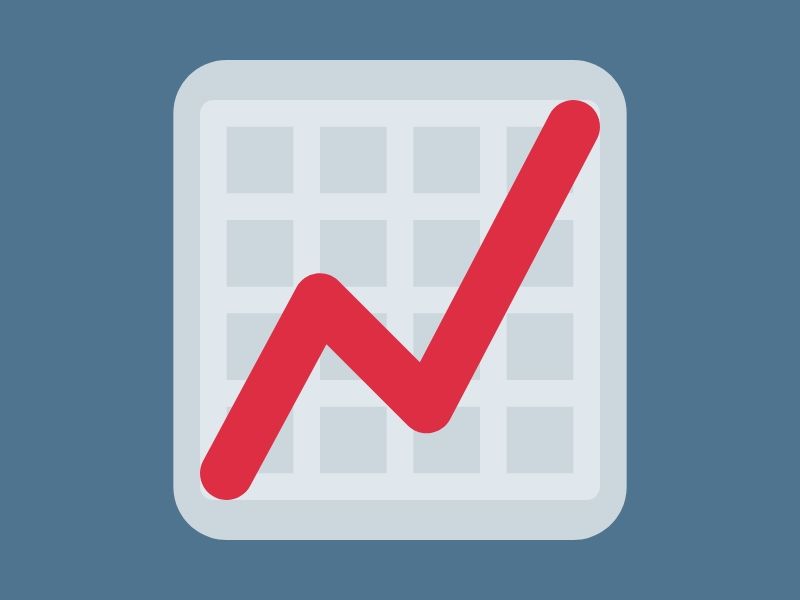 Sure, the ultimate goal for both is to make money. But before we reach that, there is always a primary goal or "the reason" why we prefer one over the other.

For SEO, the primary objective is to rank content as high as possible and be able to drive consistent organic traffic.

Content marketing, on the other hand, is used to attract and captivate target audiences' attention, and likely make a sale out of it.

To put it simply, SEO's primary goal is to dominate the top of the funnel (Create awareness) whereas content marketing is to dominate the middle and bottom of the funnel, i.e. make sales and money.

How and why content marketing and SEO are related

1. SEO needs content, content marketing is content

In order to rank on search engines, you need content. And well, content marketing is the fuel you need.

As mentioned above, one of the core components of content marketing is content creation. So whether its text, videos, images, etc, you name it.

True, SEO needs content optimization. But without content, how can you optimize it right?

2. Content marketing focuses on target audiences, SEO needs that too

One of the most important aspects of SEO is to satisfy the search intent. Search intent is defined by the intent or reason behind what people are searching for related to the key topic.

For example, if I'm trying to rank for the term "Best Nike shoes in 2019", I need to make sure what people are looking for. Is it a review based content, informational content or something else.

By mastering content marketing, you will be able to quickly grasp the concept and trust me, if you can serve search intent well, you will be able to rank for dozens of related keywords.
3. SEO needs links, content marketing is the key to it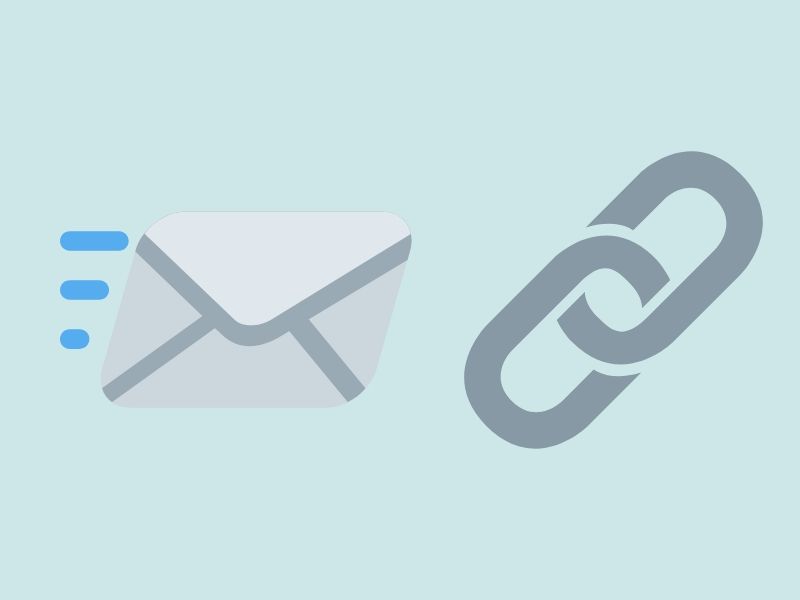 You all know how important backlinks to SEO is. The most effective way to acquire backlinks is through content promotion by reaching out to people.

But, because it's not that easy to gain backlinks, you need to have some basics in content marketing and marketing psychologies, in order to craft out an irresistible piece of outreach emails.

An ordinary email will not work anymore in 2019. This is because if you can't stand out from thousands of other emails, you will not get noticed.
4. Technical SEO is important, content marketing is crucial for the UX

Besides content optimization, optimization on technical aspects like website loading speed, images, site structure, etc. is also very important for SEO.

The overall improvement of technical aspects leads to great user experience or UX. Content marketing requires content strategies to succeed.

One of the content strategy components is UX strategies. You can't succeed in content marketing without a great and appealing user experience.

And that's how these two aspects are related to each other.

5. CTR and dwell time play a huge role in SEO, content marketing helps this

We all know that with Google Rank Brain algorithm, CTR and dwell time (time spent on a page) of the website has become one of the top three SEO ranking factors in 2019.

So, by implementing content marketing strategies, starting from the headlines all the way to how the content is structured and present contribute to this factor.

Without eye-catching headlines, no one is going to click on your site and with poor content, people will quickly exit the page.

So now you must have understood how closely these two forms of marketing are closely related. I have got another topic that you might be interested in.

4 Basic content marketing strategies for SEO

1. Define your topic and search intent

This method can be done easily. Often times, I see people struggling to find a new article topic to write on.

To get started:

Define your broad topic. This could be anything about your business or niche
Break down the topic into small chunks and components.
Type in each of the small topics into google search and use the "related search" and "what people are searching" section for an idea. You may also go to forums and Q&A platforms to get some ideas.
Once you have got the topic, see what your competitors are writing and the search intent. Analyze what type of articles are ranking on the first page.
Once you are done, you would want to check if the topic is qualified or not.

To this, simply use your favorite keywords research tool and check for things like monthly search volume, CPC, etc. – A typical keyword research process.

You may need to make some changes to the topic name but that is ok. Make sure the intent remains the same.

2. Start writing in an attractive way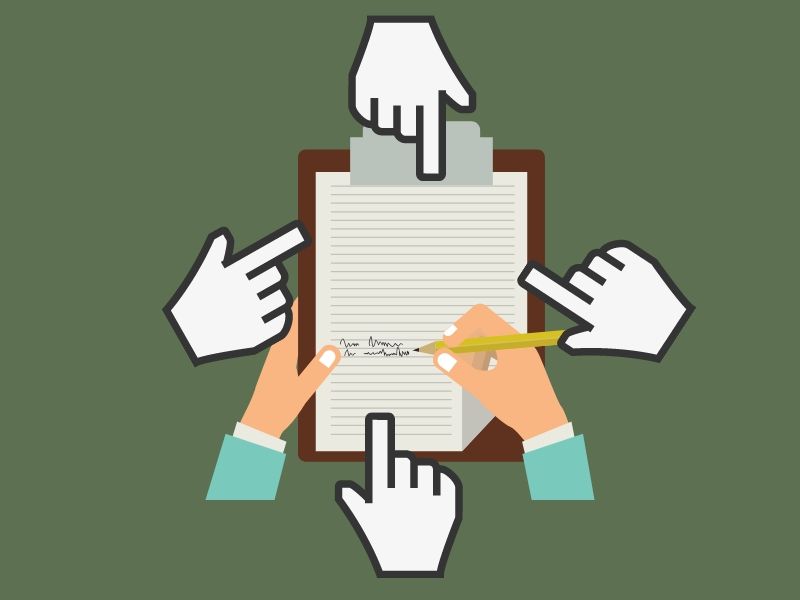 Once you have your topic and understand the intent, the next step is to start writing.

The goal is to write content in an engaging manner. Make sure you structure your content in an easy-to-read style.

This includes things like – Subdividing your content into multiple sub-headings, make use of bullets and numberings, highlight some important terms and don't write a too-long paragraph.
Tips to write engaging content:

When writing, write in the manner of "you" and "I".
Include questions in between while writing
Add in some videos and engaging visual components like infographics
Implement some interactions if possible. For example, a share button or a user voting/rating system at the end of the content.
The style of writing is also important. In the end, it differs from person to person and requires practice.

3. Optimize your headline and meta description

No doubt, headlines are one of the most important components in SEO. If you don't have eye-catching headlines, no one is going to click on your links.

A meta description is also another factor here. Because it provides small summary information about the site, it can be a deciding factor sometimes.

Some of the effective headline writing techniques:

Use some meaningful special characters such as numbers or brackets. This is because it can make your headline stands out when users scroll through lists of other headlines.
Use questions as headlines to arouse curiosity.
Make use of current timing, such as the current year
Incorporate strong adjectives like "best", "cheap", "guaranteed" etc.
The techniques apply the same for the meta description. But mostly, meta descriptions that use questions tend to perform better.

4. Craft unique backlinks outreach email

There is a couple of outreach email template out there on the internet which you can make use of.

To sum it up, you would need to create a creative, unique and attractive email that makes you stand out from the crowd.

Some of the tips include:

Create a catchy heading and epic introduction that arouses curiosity.
Write funny, creative email content
Offer something more than just your epic content in return. For example, sharing of the backlink site owner's article, etc.
Personalize your email.
Keep track and follow up on the progress.
Conclusion

That's all the relationship between content marketing and SEO. As you can see, they both go hand in hand with each other.

They both need each other to succeed. A successful content marketing campaign without traffic means nothing and the most optimized SEO website without content marketing can only get you far enough.

In fact, I think there should be a new term of marketing for the combination of these two. What do you think? Maybe Search Engine Content Marketing Optimization?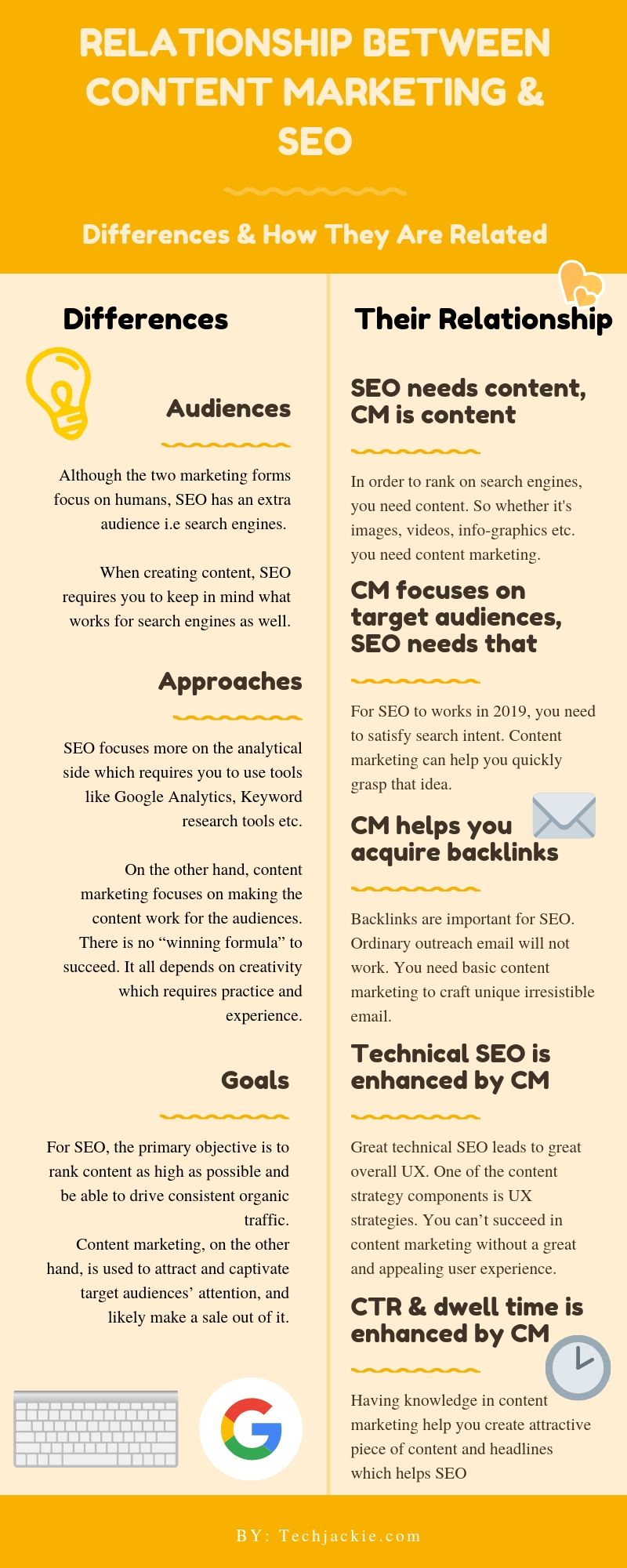 So if you can think of anything better than this, do let me know in the comment 🙂