CTR Manipulation: From #34 To #10 In 22 Days [Case Study]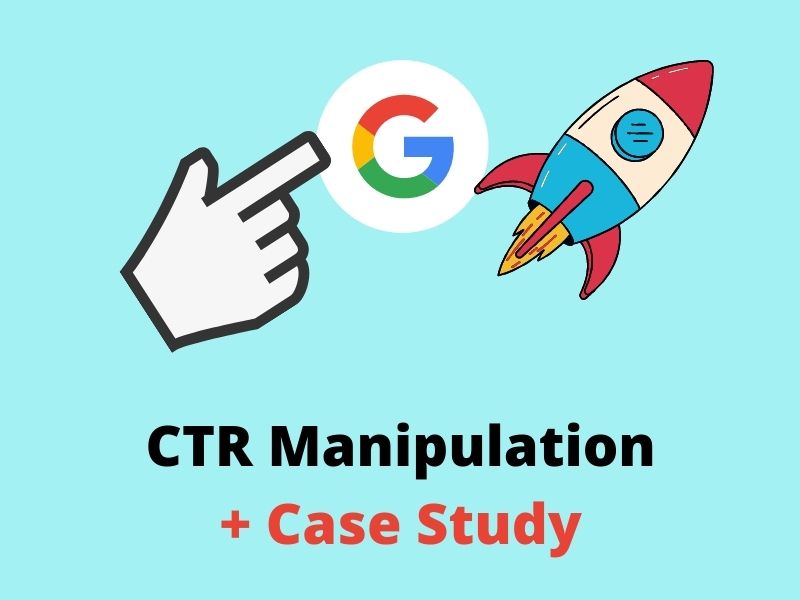 CTR manipulation – is one of the hottest topics in SEO right now. You might have come across this term while browsing online for some new SEO techniques where people are claiming that it works. But has anyone ever had concrete proof on this? I guess not. That's why I decided to write up this small case study where I took one of my client sites from position 34 to position 10 within just 22 days, that too, for a very big local keyword (4,400 searches per month)
So, are you excited to learn more about this? If so, let's dive into it
Client's Website Initial Ranking Conditions
First off, let's get to know how was this client's ranking prior to the CTR manipulation process. For the sake of privacy (and to hide from the Google search engineers who could be reading this), I've decided to blur out the client's website and keyword.
Here's the screenshot of his search console performance for the main keyword where we were targeting: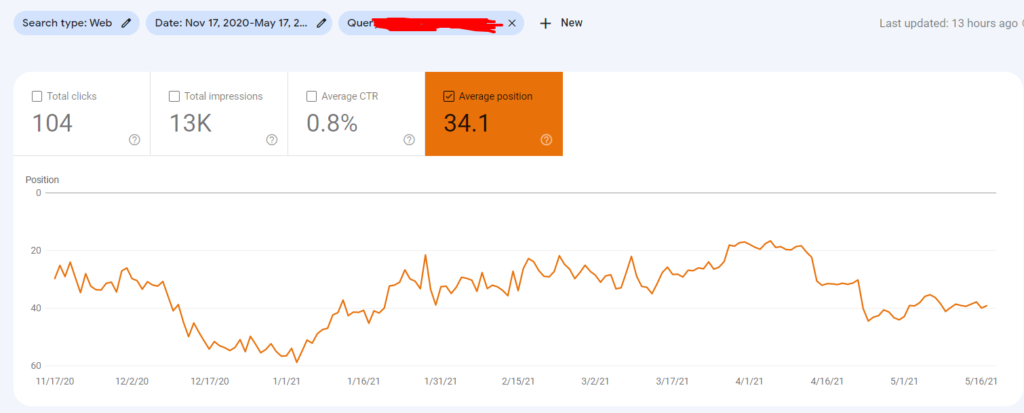 This is his progress from November 17, 2020, to May 17, 2021. During this time, the client had been working with his previous SEO guy for almost a year and no matter what they did, the client couldn't get his site ranking on the first page of Google for his main keyword – as you can see, the average position was 34.1 and it had been going up and down throughout algorithm updates.
What Had Been Done On The Client's Site Prior?
You might be wondering, what all had been done to the site prior. When I got a hand on this site, the on-page and off-page were quite to the point. Their backlinks were mostly of high quality and the page was well-optimized. The site was well-positioned in the local area and they are well-recognized. It's just that no matter what they tried, the site couldn't get past the 2nd page for this big-money keyword.
The Possible Reason Why The Site Got Stuck And Why We Needed Clicks
The client reached out to me on March 24, 2021, and asked me to take a quick look at the site. Prior to this, he had already been working with me for almost 6 months for another of his site (where I got him to #1, and I'll release the case study soon)
When I saw the site, I knew exactly why it got stuck – The answer is Google has probably devalued the site in terms of quality. Now, the word quality here means multiple things in SEO, but generally, there are 3 areas that I look at – content quality, link quality, and user satisfaction (yes, they do keep track of this, read my another case study here)
In this case, I was pretty sure it's the user satisfaction factor (as mentioned, the on-page and off-page were all looking good to me), and this makes sense. This domain has been around for over 5 years now and had gone through multiple ups and downs in Google's algorithm update. So the overall site's quality in terms of user satisfaction could be reduced over time.
But nevertheless, the on-page still needed a little tweak. So I did that first
Time For CTR Manipulation To Boost The SEO Ranking
After I re-optimized the on-page a bit using my scientific knowledge of SEO, the site saw some small boost, but still stuck. It got even worse when another round of the algorithm update came. So it's time for me to start the CTR manipulation
As you can see on this screenshot, I started working on the site on March 24, 2021, did some on-page, and waited for some time, before starting the CTR manipulation on June 17, 2021, when the site was sitting on position #34

On July 9, 2021, the site hit #10, as you can see from the screenshot (exactly 22 days after the start of the campaign)
During these 22 days, I had done nothing to the site. Here's the proof from the search console that the site had been getting clicks (from the CTR manipulation process) during these moments:

What Happened After The Boost?
Unfortunately, we were not able to continue with the process after we hit #10 because we ran out of resources to do so. However, the site continued to stick around at #10 for quite some time and even started climbing higher and higher in the ranking, where it ranked the highest at #3.
Here's the graph to show the performance after the CTR manipulation:

As of writing this case study (March 18, 2022), We haven't done any SEO on the website for almost 8 months now, so it has slipped down a bit from where it used to rank high, from around position #6 – #8 to now ranking between #9 – #10.
How I Did The CTR Manipulation?
I hope you enjoyed reading the case study so far. Regarding the process of how I did it, unfortunately, I can't reveal the technique as this could prevent it from working if I released it to the public. It's something I only offer as a part of my SEO service or SEO coaching.
However, what I can give you as what works is that you need it to be real humans from fresh, real IPs. Everything has to be authentic. The number of clicks you send doesn't matter, as long as everything is real. One thing to be noted is that the clicks must not come from a pool of known networks like Microworkers or MTURKs. These places can easily be tracked down by Google. You might see initial boosts from these places but it won't last.
PS: I'm also not going to offer it to anyone as a standalone service simply because it requires too much work to do and this alone won't work unless your site really needs it.