[Case Study] How I Helped This National Music Lessons Client Double His Traffic & Rankings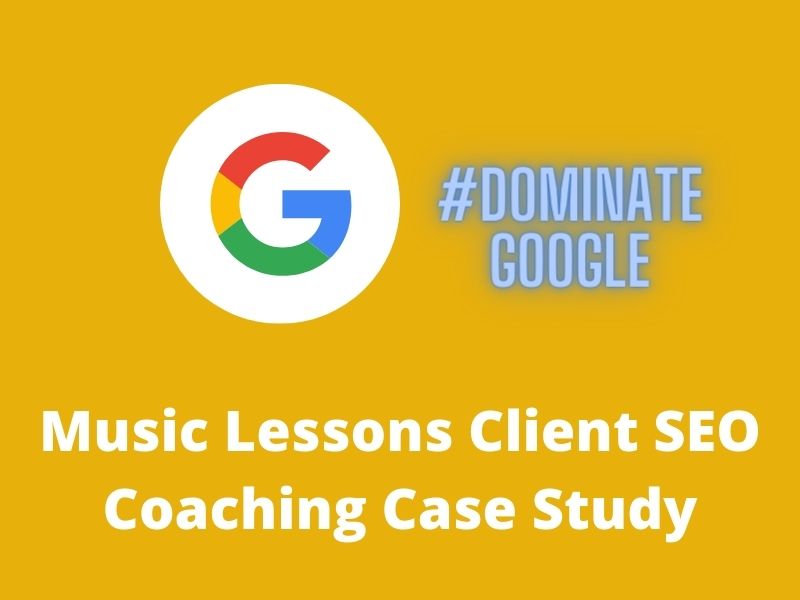 This is a case study of how I helped my client in the national music lessons niche through my SEO coaching program and how I helped him double his traffic and rankings strategically with just 3 coaching sessions.
Just like any other of my case studies, I'm not going to reveal the website and keywords due to security and privacy reasons. But in this article, you will find some of my overview process of how I went about achieving the results along with various screenshots proof.
Project Background
The client provides music lessons, both in-studio and online across Singapore. By the time he approached me, he was also planning to musical instruments such as violins, cellos, and pianos through his website as well. His goal was to increase some of his money keywords rankings related to music lessons and give him a blueprint of how to strategically rank and optimize his e-commerce keywords.
His website was about 1.5 years old when he approached me with some of the money keywords already ranking well. in this case, it's a partial match domain (PMD) that has the keyword in it.
Challenges
One of the biggest challenges in this campaign is that there had already been a couple of well-known national music directories and companies ranking for some of the money keywords. So we knew that we need to work smart and strategically to pull this off.
The Campaign
Here are the overviews of how I approached the campaign:
Technical SEO Optimization
Although the site was already well-built from the start, one of the main issues that I discovered immediately was the presence of many tag pages in the index.
Since the client uses WordPress and had written quite a number of blog articles along with using tags, over time, these tag pages get indexed on Google. If exists too many, this could lead to a bloated index.
Index bloat is when a website has unnecessary pages in the search engine index. This causes Google and other retrieval systems to spend more time processing than needed, leading to a decrease in crawl budget, and could eventually lead to a quality issue on the site.
So, the first thing I advised him was to get rid of these tags once and for all.
On-Page Optimization
The next step is to optimize and re-optimize each money page using my scientific method of on-page optimization.
Some of the basic optimizations include things like:
Heading tag optimizations (h1,h2,h3)
Title and meta description optimization
Internal linking optimization
Other advanced techniques include things like:
Page structure optimization and addition of sub-topics:

By structuring the page in such a way that there are logical connections from one section to another. For example, I started the page with the introduction to service and company, followed by the services provided, then reasons to hire the company, etc. All these subtopics are important for service pages as they answer the questions related to the intent.


Sentence-level optimization using semantically-relevant keywords:

By making sure that each sentence is properly optimized using semantically relevant keywords based on reverse engineering the competitors and using a proprietary tool that I created. You can use on-page tools like Surfer-SEO to help with the process.


Keyword count and variation optimization:

Making sure that I have used the right frequency of each keyword on the page. For example, the word "music", I made sure to check the competitors' average and see how many times I should use this word. You can again, use tools like Surfer SEO, but there's really no hard rule for this. I'd like to keep it a little lower than the average to avoid over optimization.


Entity connection establishment:

This is a special tactic that I used to help Google understand the website's entity better by essentially connecting the website to other properties via links and have a proper about us page to ensure that Google understand what the site is all about. What you can do here is have a proper about us page, with proper introduction to the business and things you do. For example, you can use the sentence like: "We are ABC and we offer XYZ". Use a simple sentence and tell Google who you are and what you do.
For the e-commerce section of the site, I also advised him to create 3-4 blog posts per category to help build topical relevance to each of the categories, which in turn, we will also use content to help funnel link juice later in off-page optimization
Off-Page Optimization
Since the site already had some quality links pointing to the homepage, I advised my client to strategically add internal links from the homepage to the important money pages, as well as focus on building some tier-2 backlinks to help power up the existing links.
I also asked him to build a couple of high-quality links via guest posts to some of the money pages, as well as the blog content that was created to help funnel the e-commerce pages.
For tier-2 links, I advised him to use PBN, since you get the powerful home-page juice to help power existing links.
For guest posts, some of the criteria I asked him to look for are:
The site must be from a site receiving at least 1,000 organic traffic per month
The site should be somewhat related to the site or at least the site should be a Singapore-based site
The site should not be too overly spammy linking out
The site should have a DR/DA of at least 30
Results
Here are some of the screenshots of the results and testimonials
Traffic from SEMRush after 1 year
*** Traffic might drop off a bit since he hasn't been in touch with me for a while now. But you can see how it has improved since he started the sessions
Testimonials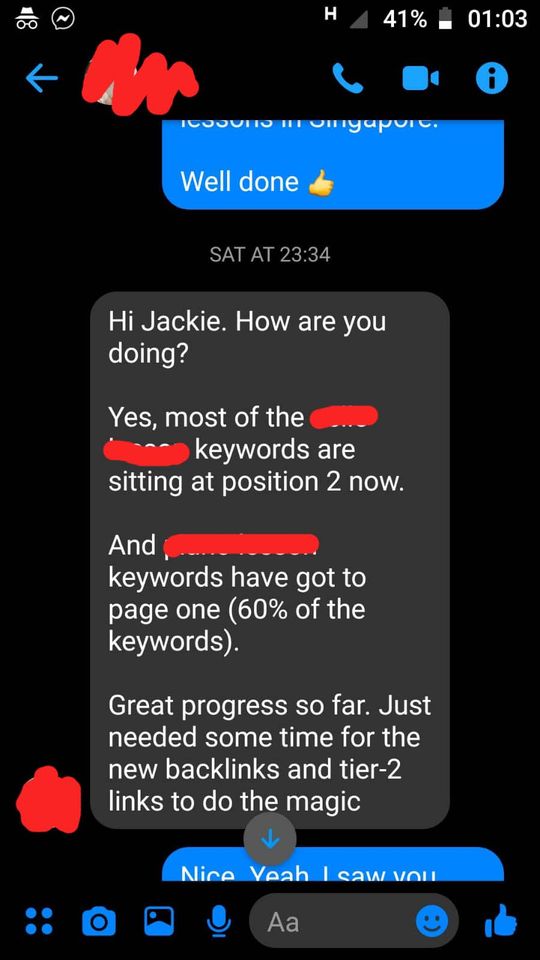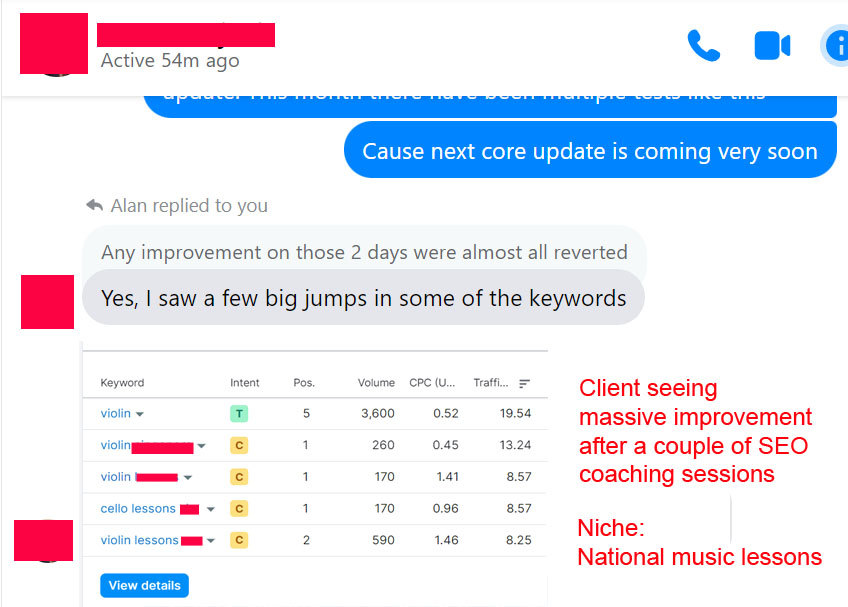 Want To Take Your Business To The Next Level?
If you're looking for either an SEO service or SEO coaching, feel free to reach out to me at [email protected], and let's see how we can dominate Google together.