Roofing SEO: Top Guide on SEO For Roofing Companies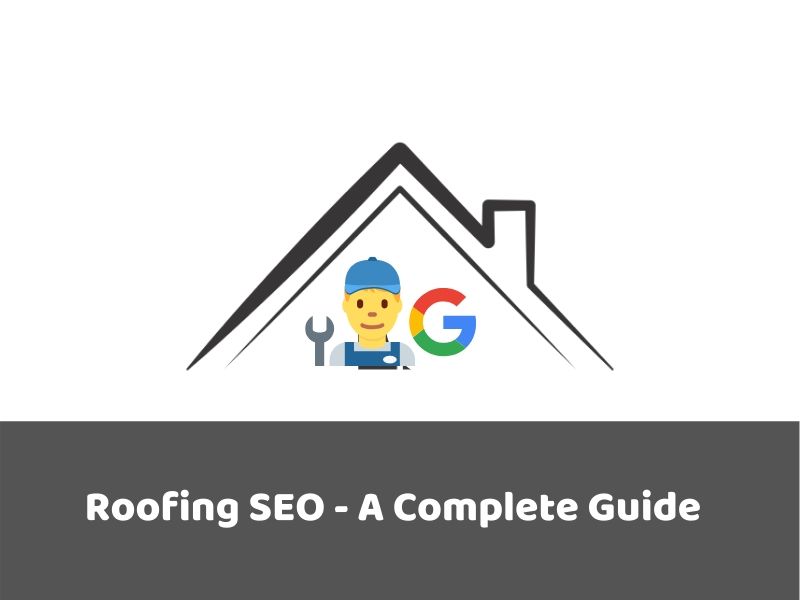 Digital marketing is key for modern businesses. A strong digital presence can boost your business to success and drive traffic your way. SEO (search engine optimization) is a proven way of increasing online exposure.
But how does the process change depending on the type of service you offer? And how can SEO be strategized specifically to help a roofing company?
Website traffic is largely due to search engines like Google, and to be visible on search engines, you need SEO.
For local businesses like roofing companies, SEO is essential. It's the most effective way to target consumers in your market.
In this article, I've gathered everything you need to know about how to do SEO for your roofing website to help you rank higher on search engine results (SERPs)
What Is Roofing SEO?
Roofing SEO allows you to optimize your website, so you can rank higher in the search engine results pages. This involves using a wide range of practices like link building, keyword implementation, and more.
With any SEO project, the process varies slightly depending on the market for your business.
To use roofing SEO, you must understand the way your specific consumer speaks and how to appeal to them.
At the very least, you must make sure you have an updated website with relevant content.
Why You Need It?
Rarely do people scroll past the first page of Google. What this means is that the websites on that first page receive all of the attention.
If a person searches, "roofing company Florida," they will click on one of the first few websites they see.
Ranking higher in Google means that your website will generate an increase in traffic. This traffic turns to leads, which then turn to sales.
SEO brings this traffic to your site. It increases awareness of your business and encourages people to choose you over your competitors.
Through SEO, you are targeting consumers who are already interested in your services. But, you're more likely to turn a profit because of the leads created by SEO.
Creating A Roofing SEO Strategy And Keywords
One of the most basic SEO practices is keyword strategizing.
Keywords are words or phrases that search engine users type into the engine for an answer to some sort of inquiry.
Your webpage will only appear on search engines if those search terms are in the content on your site. That's why it is essential that you do research about the keywords that are popular in your area and in your market.
To perform this research accurately, you must have a clear picture of your target demographic.
This means knowing their income level, location, psychographics, and more. A tailored digital marketing campaign with a specific target audience increases the likelihood of you getting leads that turn into sales.
For example, let's say you are a roofer who typically works with high-end estates.
You aren't necessarily going to want to appear in the search engine results for "cheap roofers." The people who use that keyword are strictly concerned about price.
If you have higher prices than average, then the person seeking cheap roofing quotes will just be a wasted lead. They aren't likely to pursue you once they're quoted.
General Keywords
General keywords are the common terms that people use, such as "roofing company, roofer, roofing, roofing contractor, etc."
These general keywords are usually coupled with location-specific work, such as the name of a city. You can create two location phrases by putting the location at the front of the keyword or the end.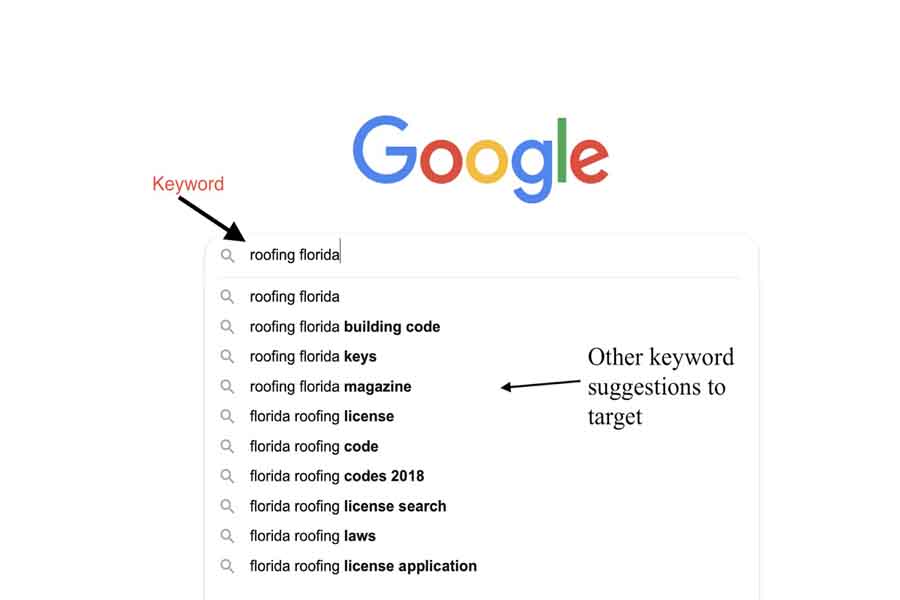 General roofing SEO keywords are good to use. However, there tends to be a lot of competition with these general terms.
That's why you must do comprehensive keyword research. This will allow you to find the terms that aren't used as much but could still potentially generate leads.
You can expect people who want a roofer to look up something like "roofer Florida," or "Florida roofing." Content on your site that features these keywords will make it possible for customers to find you.
In turn, you will notice a higher conversion rate of consumers into customers.
Specific Roofing Service Keywords
Specific keywords target users looking for a specific type of service. Instead of using "roofing company Florida," they may use "shingle replacement Florida."
If a searcher is using this type of keyword, it means that they have done their own research. They already know which service they need. You're more likely to make a customer out of searchers who use specific keywords.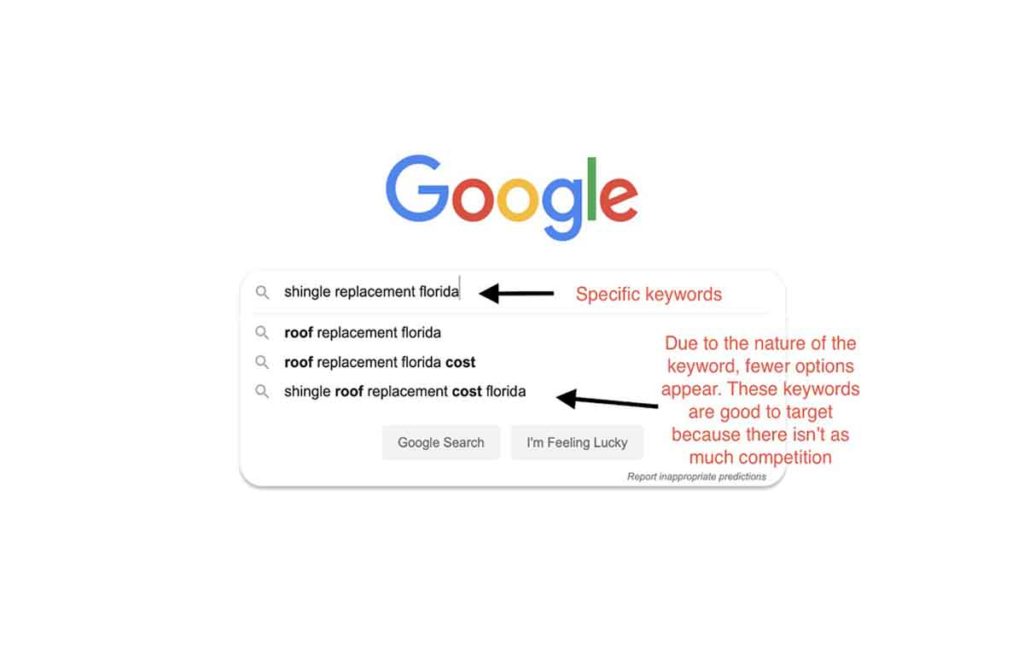 One method to implement specific roofing SEO keywords into your site without being too narrow? Create content about that specific service but also mention general terms like "roofing."
The keywords you choose depend on the services you want to highlight and the consumer you want to attract.
The keywords you choose depend on the services you want to highlight and the consumer you want to attract.
If a specific sector of your business brings in a lot of profit, be tactical about using keywords related to those services. This is an effective way of bringing awareness to that part of your business.
Keywords Research Tools
Getting started with keyword research can be intimidating. Luckily, there are plenty of online tools that can make the process a little bit less daunting.
Popular tools include:
You can use these tools to find the keywords for roofing SEO that are most successful in your industry.
These tools also allow you to study the competition between different keywords. This is important because you need to choose keywords that are realistic. You're more likely to rank using keywords that aren't as widely used.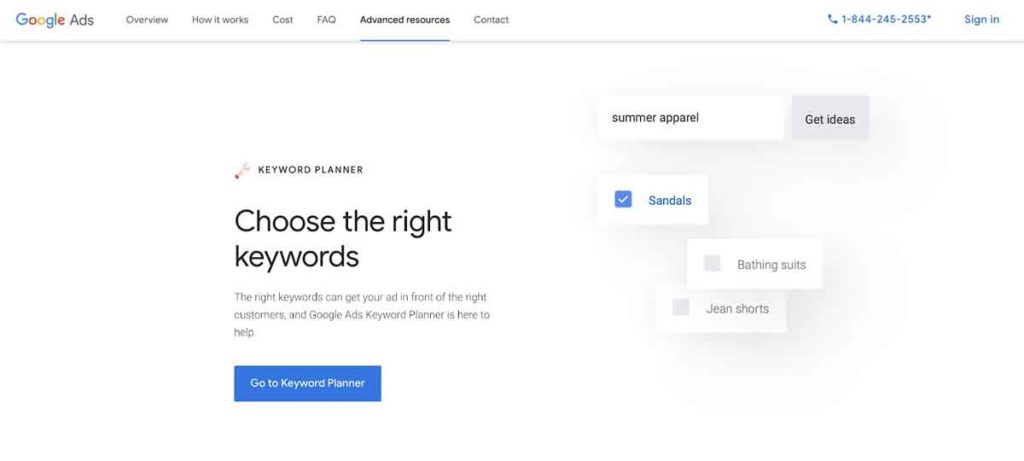 Research is truly one of the most important facets of SEO. Without adequate research, you won't understand how to speak the language of your consumer.
Potential customers are out there. It's all about getting them to be aware of your services.
A properly optimized website can significantly expand the reach of your business and increase your yearly profits. But the crucial first step for any roofing business just getting started with SEO is investing in keyword research.
Local SEO For Roofers
If you're a local roofer, then there are a couple of things you need to do first before applying other SEO strategies for a roofing business in the next section.
Claim Google My Business
The most important thing in local SEO for a roofing business is to claim your Google My Business (GMB) listing.
This will help list your business both in the featured Google listing pack or local pack and maps.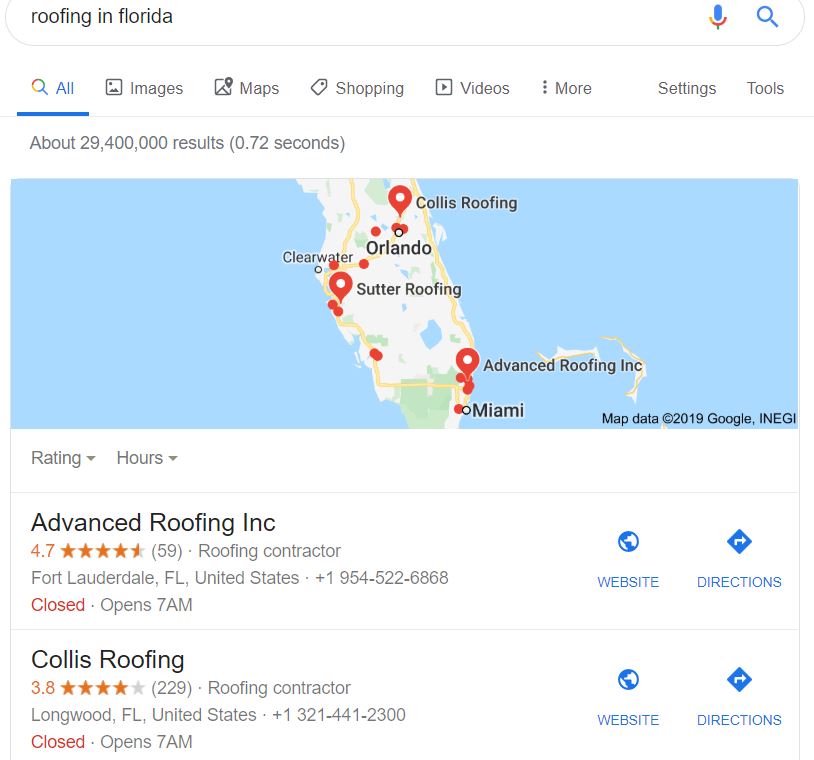 One big benefit of GMB is that your business gets featured in the topmost position, above all the organic results. Your goal is to get your roofing business in the top 3 spots in the listing.
Tips To Optimize roofing GMB Listing
Here are 5 ways you can do to rank your roofing Google My Business higher
Have the main keyword present in your business name
Upload high-quality images and have your keywords present in the file names.
Fill out all the necessary information about your roofing business, i.e. Busines information, working hours, business categories, etc.
Ask your clients for reviews
Utilize the GMB post option to consistently post for any updates related to your roofing business.
Add Your Roofing Business To Roofing Directories
Local directories or listings are essential to building local trust and relevancy for your business in Google and search engines' eyes.
They can also act as an additional source of traffic to your website.
Make sure your business is listed on all major listings like YellowPages and Yelp
Using tools such as Bright Local can speed up the process, instead of having to individually add and update each listing yourself.
Ensure You Have a Consistent NAP
NAP (stands for Name, Address, and Phone Number) is the information that search engines like Google use to determine your business.
Since search engines are just a mere algorithm, they need each information to be super accurate.
When you list out your information across different citations, including Google My Business, ensure that they all are consistent.
For example, if your business has the phrase "LTD" on it, make sure you have this present across all of your local listings.
Using the free tools such as MOZ Local will allow you to see how complete and in-complete your citations are, as well as any inconsistencies or duplicates you may have with your listings.
On-Page SEO For Roofing Contractors
SEO can be broadly classified into 3 main categories, ie. On-Page, Off-Page and technical.
Use Keywords Throughout
Make sure you mention your main keyword throughout your page and website. Insert them naturally into the content but make sure not to go overboard on this.
Besides, you would want to make sure that you have other related keywords to your main keyword as well.
For example, if you're optimizing your website for the keyword, "roofing in Florida", you need to mention keywords like, "roofers", "weatherproofing", "Metal roofing", "roof repair and maintenance", etc.
This will help improve your page and site overall relevancy, which is important for search engines like Google to determine what your content is all about.
Optimize Title Tags And Meta Descriptions
Title tags are HTML tag which specifies the title of web pages. They are what get displayed as blue links in search engine results.
Meta tags or meta descriptions are snippets of text that describe a page's content. They don't appear on the page itself, but only in the page's source code

When optimizing for these tags, make sure you have your main keyword present in the tag.
Also, make them look attractive enough to make people want to click through to your result.
Add strong adjectives like "best", "guaranteed", and "top" to make them look appealing.
Create Roofing Services Pages
As discussed above, targeting your roofing SEO with specific keywords can help you narrow down your SEO strategies and rank for less competitive keywords related to different services.
Besides, this also helps users get to know more about your roofing company and each and every service you offer in detail.
Have these pages present both in the header and footer area of your website to ensure ease of navigation.
Have Contact, About and Privacy Policy or Terms Pages
By having about, contact and privacy policy or term pages make your website looks more trustworthy and allows potential customers to know more about you and your company.
In fact, Google looks at this as a sign of Expertise, Authoritativeness, and Trustworthiness (EAT), which they have recently been focusing on various websites and businesses in their algorithm.
Click here to read more about the EAT algorithm.
Optimize Images
Optimizing images for roofing SEO on your website can help them rank in the image search section on search engines.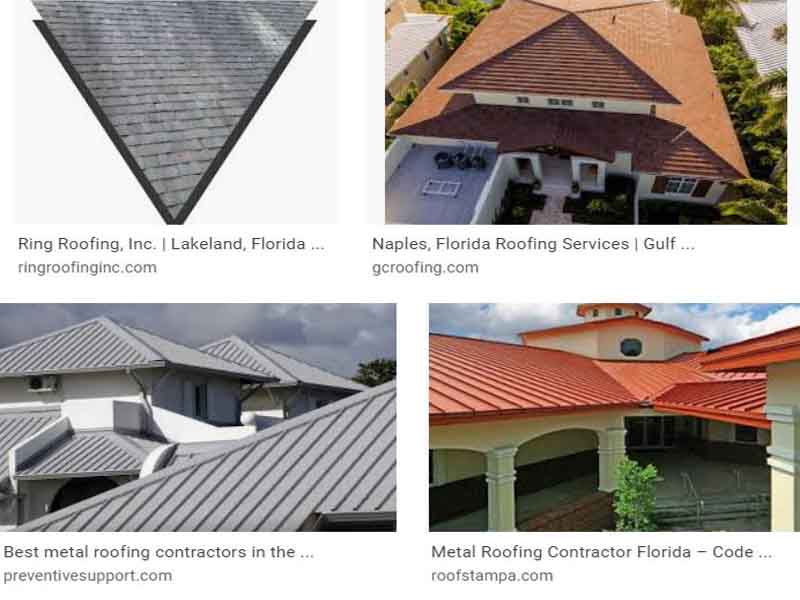 As you can see above, all these websites' images are showing in Google's image results.
To optimize the image for SEO, make sure your image file names and alt tag contain the main keyword you intend to rank for.
An alt tag is an HTML tag that lets you specify the information about images.
Add Roofing Schema Markup (Structured Data)
Schema markup or structured data is code that you put on your website to help the search engines return more informative results for users in the form of rich snippets or rich results.
For example, star reviews, opening hours, location, and mobile phone number.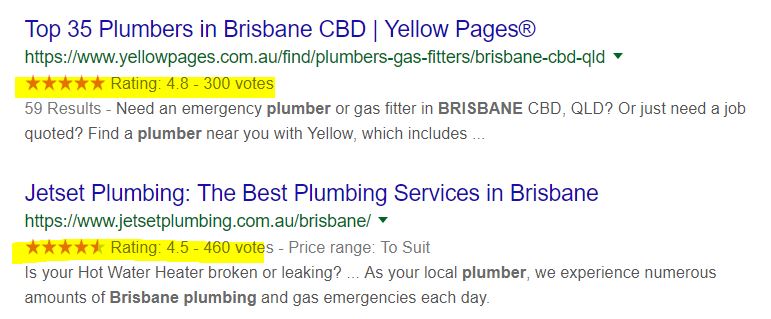 It also helps Search engines understand your content better.
For help on knowing which schema mark-up to add to your roofing website, you may reference Schema.org for their roofing schema.
Create Roofing Blog Content
A blog is a great way to provide useful information and news related to your roofing company and industry.
This helps build trust among users who would like to get to know more about your company and website.
Besides, blog posts can be a secret weapon to your roofing SEO strategies, by ranking on various informative roofing topics on search engines.
This helps create an additional channel for traffic and potential leads via organic ranking.
Technical SEO For Roofing Business
Technical SEO ensures that your website delivers a good user experience that both search engines and end-users are looking for.
Page Speed Matters
Page speed or how fast your page loads is crucial to your roofing conversion. The stats show that for every 1-second delay, a conversion rate drops by 7%.
In fact, it's one of Google's ranking factors. So they clearly give importance to this.
There are 2 main areas that determine how fast page loads, i.e. your hosting server and your overall website.
You can use free online tools like Google Page Speed or GTMetrix to gain insights into your speed-related problems and recommendations on potential fixes.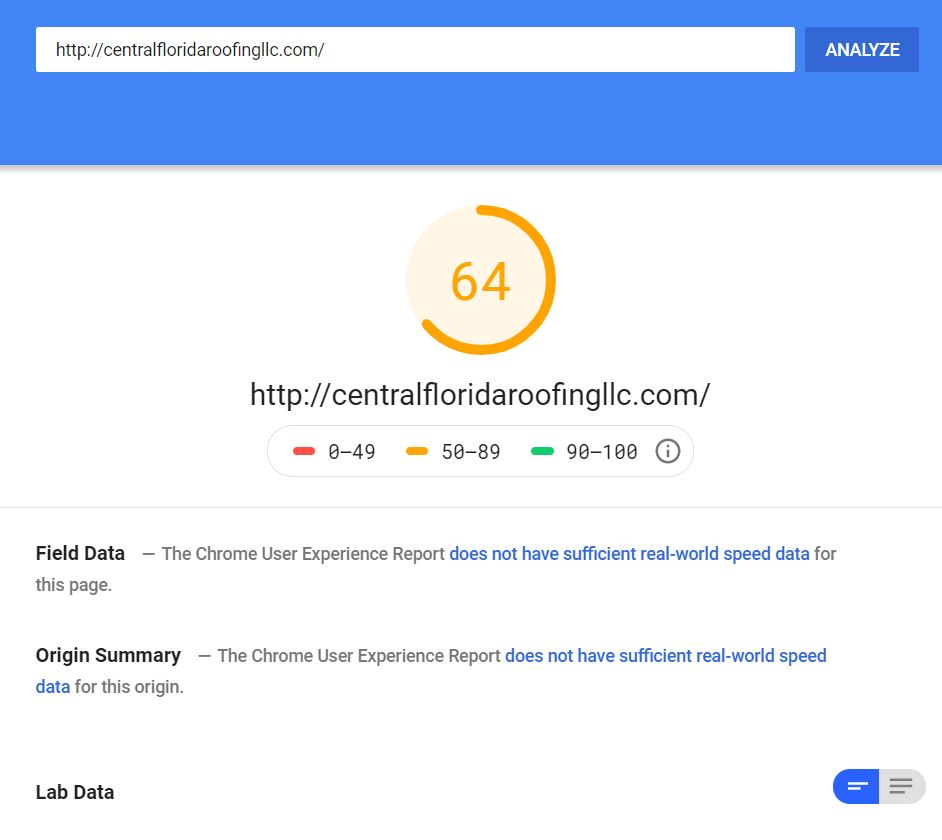 Make Sure Your Website Is Mobile-Optimized
Nowadays, the majority of people use their phones to browse the internet. Since search engines like Google's job are to deliver the best user experience to the users, this is again one of their ranking factors.
As a result, sites that aren't mobile-optimized can be heavily penalized by the Google algorithm and see lower rankings as a result.
Use tools like Google's Mobile-Friendly Test to see if your page or website is mobile-friendly or not.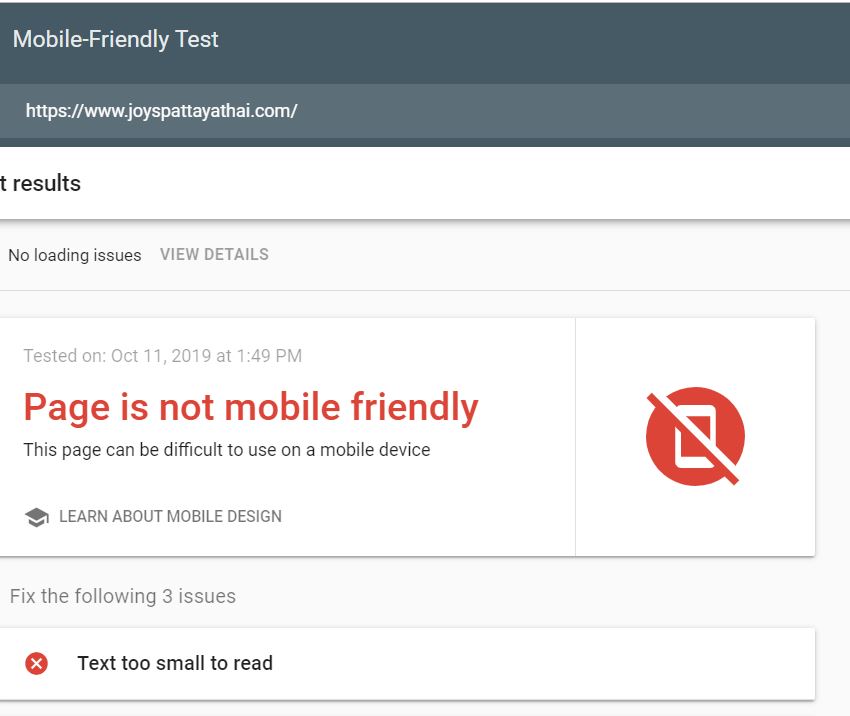 Ensure Your Site Is Secured
Securing a website here means having an SSL certificate installed on your site.
SSL is a form of website security that ensures that data transfer is secure, and this is particularly important if you're collecting payments online or accepting email addresses.
This may not be much important to your roofing SEO strategies, but it at least makes your site looks trustworthy.
Off-Page SEO For Roofing Website
Off-page SEO refers to SEO strategies outside your own website. This is important as it helps build trust and legitimacy about your roofing business.
Local Link Building
Backlinks or external links pointing to your website are one of the most important ranking factors for Google and any other search engines.
They act as a sign of trust and popularity for your roofing business.
The more and relevance backlinks your roofing website has, the better you're going to rank in the organic search results.
One of the best and most effective ways to build local links to your website is through guest posting.
By being active among your local communities and forming partnerships, you can ask other local business owners to allow you to publish your content on their websites, in exchange for do-follow links.
You may also consider partnering up with roofers in other locations to get relevant backlinks from relevant roofing website as well.
Social Media For Roofing Business
Whether or not social signals like tweets, likes or comments actually contribute to an increase in SEO ranking, one thing is certain that by being active on various social media platforms, you can increase a chance of acquiring new clients.
Facebook For Roofing Companies
You can either leverage Facebook's organic reach or ads to create awareness about your roofing business.
Either way, you can definitely drive people to your website to learn more and may get clients from this.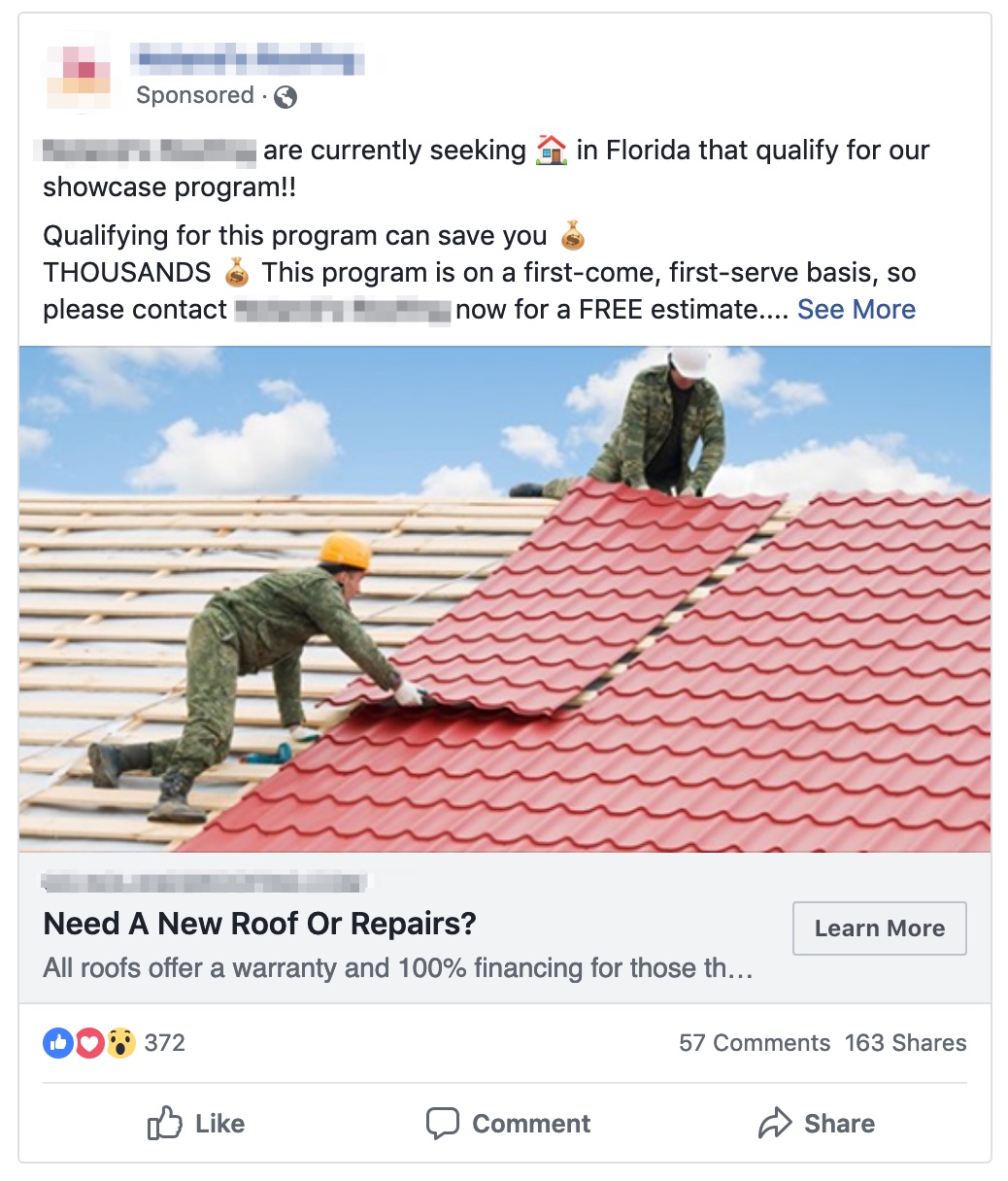 When setting up ads like the above, make sure you use a high-quality image or videos to capture people's attention.
Don't forget to complete your roofing Facebook profile. Add about section, price, useful resources and consistently update your Facebook page.
Instagram For Roofing Business
Instagram is growing in popularity and by leveraging the platform, you can increase the exposure to your business.
Similar to Facebook, you can either use the organic, ads or both to reach out to your audience.
Videos and stories are engaging and much loved on the platform, make sure you leverage them.
Lastly, don't forget to complete your Instagram bio and add a link back to your roofing website.
Conversion Optimization For Roofing Websites
Ranking higher on Google doesn't guarantee sales if your website isn't optimized for conversion.
Listed below are a couple of things you can do to increase conversion for your roofing SEO.
Make Sure That Location And Contact Info Are Easily Accessible
Having your phone number and location presented at specific areas can make potential clients notice them much easier.
Key areas include places like above the header and footer, which are presented on every page of your website.

If you wish to have your clients contact your roofing company via the contact form. you may have the form right at the hero or bottom section of the homepage, instead of having it just on the contact page.
Add To Call-To-Actions (CTAs)
Call-To-Actions are clear messages you want to convey to the users to perform actions on your website.
For example, a button that asks users to click in order to contact or see the roofing services you offer.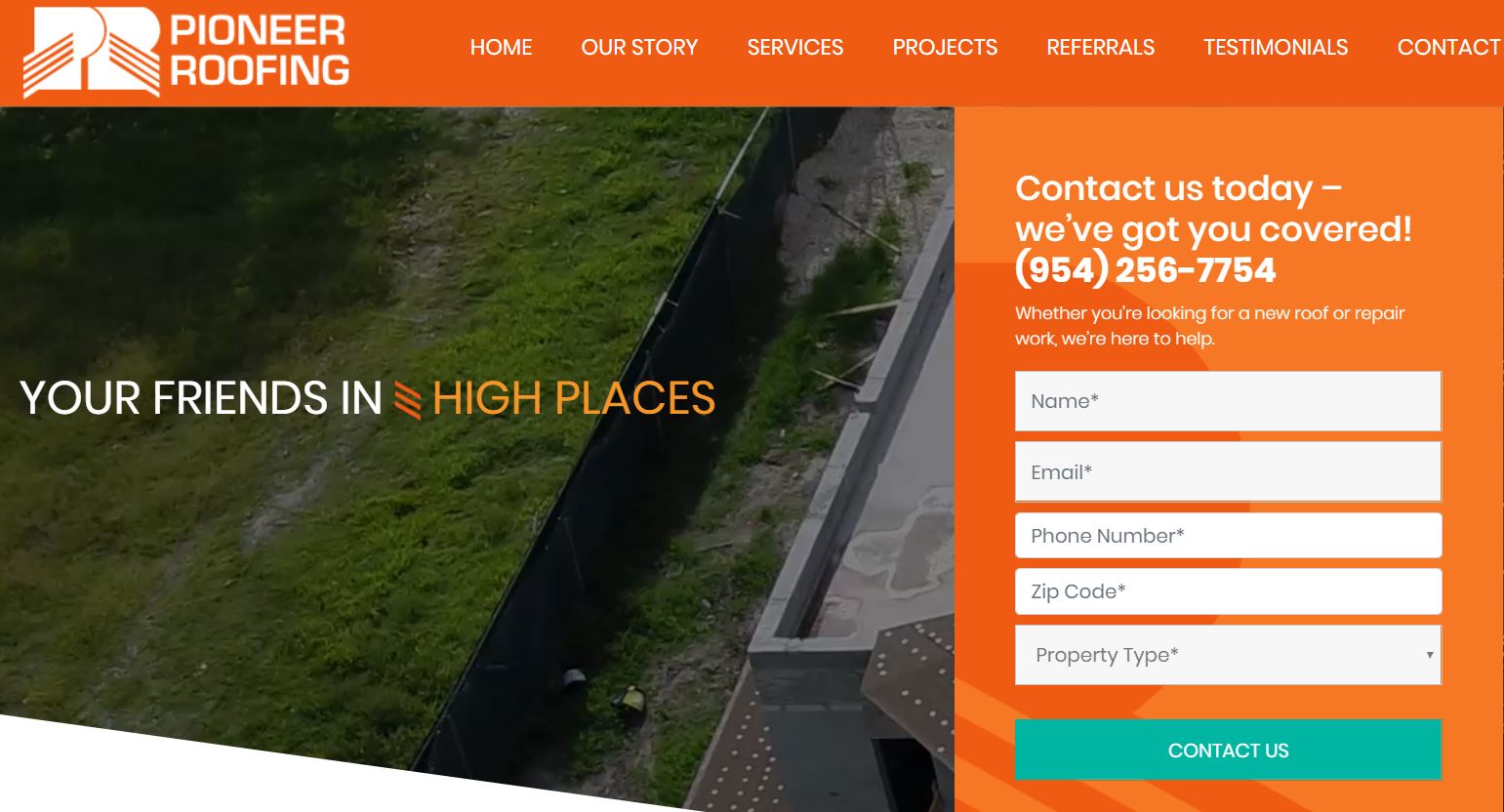 Make sure you spread the message out across different sections on your website to ensure maximum visibility and ease of use for the users. Use the clear and easy-to-understand message to avoid any confusion.
Have Pictures of Your Team Or Service-In-Action
Having your company's team members featured on the website is a great way to show professionalism.
It's like a pre-introduction to the roofers before customers actually hire your company.
Service-in-action is a way to show that your roofing business is legit and that your company actually do roofing services.

Make sure these images are present right on the homepage to gain maximum visibility and you may have them on the about page as well.
Reviews And Certifications
Last but not least, reviews and certifications are essential to your business's success.
Reviews are a great way to showcase trust and satisfaction with your customers. They are very powerful and can massively increase your conversion rate, bringing in more leads to your business from your new SEO traffic.
Certifications can further enhance trust and your business's quality. If you've ever featured on the Better Business Bureau, newspaper or any news outlet media, make sure you have that information on your roofing website.
Roofing SEO Services For Roofing Companies
That's all for everything you need to know about SEO for the roofing business.
By following the tactics above, you can pretty much ensure that your roofing website will rank higher on search engine results.
But if you ever struggle to put the SEO techniques into practice, feel free to contact us for a free consultation and recommendation and if you need roofing SEO service, feel free to check out our agency page to learn more.
Other Resources:
Restaurant SEO – A complete guide on how to do SEO for restaurant websites
25 SEO Tips For Hotels – All tips you need to rank your hotel website higher on Google and search engines.
If you have tried the above SEO strategies and see results, don't forget to ping me a quick message for your achievements 🙂