In this complete on-page SEO for Beginners article, you will know the difference between On page and Off page SEO and all you need to know to master it.
Let's get started
Difference Between On page and Off page SEO
Those who are new to SEO, On-page SEO refers to various factors on your website.
This includes technical set-up, the quality of your code – textual and visual content, as well as user-friendliness of your site.
Whereas off page SEO refers to links from outer sources such as social media and websites.
While both of them are essentials for ranking your site, we pretty much don't have control over off page SEO.
It's true, we can spam our links all over social media but remember, it's a "no-follow" site (as discussed in my SEO strategy for 2019), and getting backlinks nowadays is not easy.
That's why, on-page SEO is so important, as we can control every aspect of our site, from how it looks, experience and feels. Without much being said, let's dive into how to get started with on-page SEO.
Meta Tags
The meta tag is snippets of text that describe a page's content. The meta tags don't appear on the page itself, but only in the page's code.
The reason why we never see these tags on the page is that they usually exist in the "head" section of HTML, which is rendered and can only be seen by the search engines.
When search engines crawl (fetch) pages, one of the first things they check is meta tags. This is because the tags tell the information about the site, which is used to match the searched result.
Types Of Meta Tags:
Meta Keywords Attribute – A series of keywords you deem relevant to the page in question.
Meta Description Attribute – A brief description of the page.
Meta Robots Attribute – An indication to search engine crawlers (robots or "bots") as to what they should do with the page.
The most important one mentioned above is meta description. Let's have a look how is it displayed on Google search result:
Earlier in 2016, Google extended the length of descriptions for both desktop and mobile.
For desktop, users will see up to 200 characters, while on mobile they'll be shown up to 172 characters. To appeal to users on both devices, keep your description between 165 and 175 characters.
Title Tag
The most important tag from an SEO point of view, as well as your website. This tag is what defines your site's title.
If you ever noticed, it's small writing written on the tab of your browser. This tag is what appears and clicks on your Google search results.
Here comes why it's important. Not only from SEO but user's point of view as well.
If your site doesn't have a good enough or eye-catching title, users are not going to click on it.
So whenever you make a website or write an article, make sure to research on a good catchy title, which will attract readers and defines what your site or article is all about. (keywords)
Heading Tags
Your landing page or blog article should include multiple heading tags. There are basically six heading tags, h1's to h6's, h1's being the largest.
The purpose of these tags is to increase the readability of the site by subdividing your site's content into subtopics and to highlight main or important sections on your site.
For blog article, you may include one h1's tag at the beginning, and multiple h2's or h'3's tag for sub topics under it.
URL Strings
Search engines prefer short, concise and easily readable URL strings. When analyzing the length of URLs, Ahrefs found that shorter URLs tend to rank better.
The study looked at the length of the URL and a number of folders. They counted each root domain as one folder, and each backslash after the root as another folder.
Good URL strings format: http://domain.com/folder-name/article-name OR
http://domain.com/article-name
The phrase after backslash, after the domain name is preferred to be your focus keywords. (which is your site's title) and if the phrase contains multiple words, use hyphen ("-") to separate them rather than underscore ("_").
Easily readable URL strings also makes it easy to share and remember.
Keyword Targeted Content
That's right. If you have read my SEO strategy for 2019 article, this process is after you have done keywords research and decided to pick one as a centerpiece of your content.
Your targeted keyword should exist in your title, meta description, and URL strings.
Once you start to write your content, try implementing it within the first two lines after your title or main heading.
This is because apart from the meta description, search engines also crawl about the first three lines of your content, to enhance the better search result.
One thing to keep in mind is don't overuse too much of your targeted keyword in your content, as this may create an impression of spamming, which search engines don't like. Keep a maximum of 2.5% of the keyword density per page.
Internal And External Links
As mentioned in my SEO strategy, link building is one of the most important factor in SEO.
It defines your site's authority and how importance is your site or article for search engines to rank.
While external linking is a part of off page SEO, internal linking is what we can focus on.
Internal linking to other pages of your site will strengthen the keywords and enable Google to determine where to rank a particular keyword.
Linking internally—between service pages and blogs—helps improve the crawlability of your site, showing Google the site's most important pages.
Another benefit of internal linking is to increase your readers' engagement and opens up opportunity for them to discover about your site.
Readability And Optimization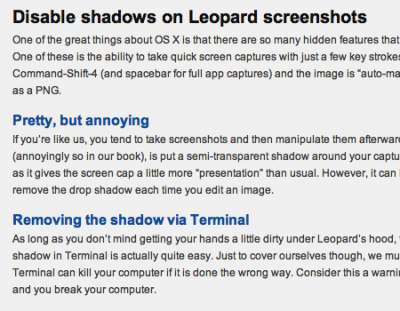 The above image example is what considered as a good readability content. Started out with big h1's tag and sub divided the topic using other heading tags.
Moreover, the paragraph size of each topics contains a maximum of four line, which is considered optimum.
When writing your content, give some amount of space after each topic, use as many bullet points as possible instead of paragraph, explain your contents with the help of figures or info graphics and make the important word or lines dark.
When inserting images, make sure it's JPEG extension (as it's lighter than other extensions like PNG). Lastly, use tools like TinyJPG or WebsitePlanet to reduce your image size as this will help to reduce your site's loading speed.
Bonus
When you browse a website, have you ever noticed a small lock, in front of the word "https" in the URL?
That's known as Secure HyperText Transfer Protocol. This indicates that this site is secured for transactions or exchanging information.
From 2016, Google announced that it will give preference to site which contains https rather than http.
In order to transform your original website to support https, check out the tutorial here.
Another tip before I finish the article is for the ones whose sites are built using WordPress.
There's a plugin called Yoast SEO. It's an all in one SEO plugin to enhance your page's SEO and make everything easier. For more information about the plugin, click here.
Conclusion
And that's all about on page SEO you need to know to get started. They are not difficult and requires no technical knowledge to start at all.
If your site runs WordPress, Yoast SEO can really help you through with very little effort required.
This on-page SEO is essential for both local business SEO and SEO in general. It's the core principal of SEO that everyone should know.
Don't forget, SEO takes time and constant updation and optimization. Till then, let me know in the comment how long does it take for you to rank on Google's first page.

My name is Jackie Owen. I'm the founder of Techjackie.com, which aims at providing tips, tricks, and services on online marketing. I'm a passionate web developer and online marketer. In my leisure, I like to go out to a movie and spend time with my family. Let's stay connected!