[Case Study] How I Rank A Local Kitchen Cleaning Client #1 On Google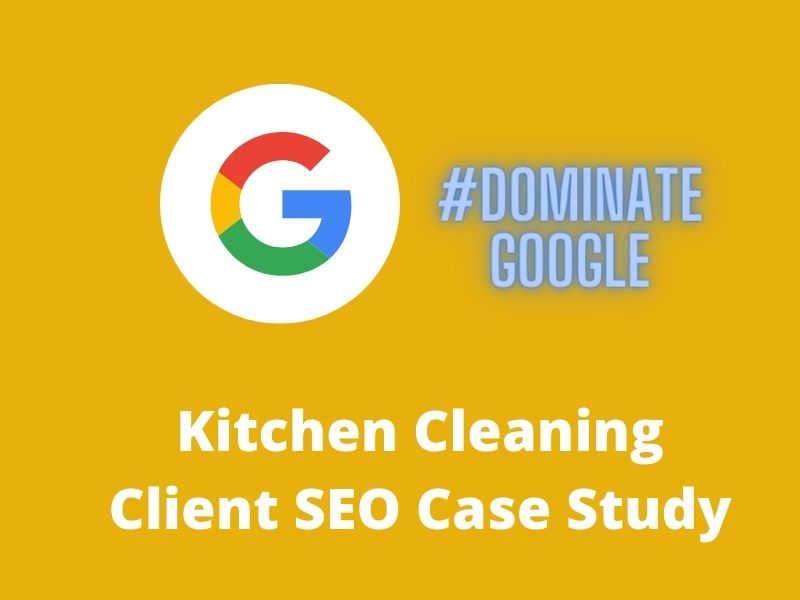 This is a case study of how I ranked my local client in a kitchen cleaning niche #1 for his main keyword along with other relevant keywords for the business, generating a consistent flow of business and traffic from Google.
Just like any other of my case studies, I'm not going to reveal the website and keywords due to security and privacy reasons. But in this article, you will find some of my overview process of how I went about achieving the results along with various screenshots proof.
Project Background
The client operates in a sub-niche of a kitchen cleaning business in Australia and he approached me to get his website built as well as do the SEO on the site. The goal is to capture as much relevant traffic as much as possible from Google and to increase the business' reputation organically.
This was a newly-built WordPress website using a brand new domain, in this case, it's a partial match domain (PMD) that has the service name in it to help give more keyword relevance from the domain level.
Challenges
One of the biggest challenges of this project is to go against some of the reputed companies that have been ranking for years on Google and dominating the SERPs. However, if you know what you're doing and work smart, you can always win at any SERP, no matter how big your competitors are.
The Campaign
Here are the overviews of how I approached the campaign:
Technical-Sound Website
Right from the beginning, I made sure the website is well-built and technical-friendly. This includes things like making sure the website is mobile-friendly and secured, making sure the site speed is lightning fast, and most importantly, making sure that the architecture of the site is easily crawlable for Googlebot and that it can crawl and index the pages easily.
On-Page Optimization
Next up is to focus on the on-page obsessively. What I mean by "obsessively" here is to optimize each and every detail to the tee.
This includes things like:
Heading (h1,h2 & h3) optimization
Page structure optimization and addition of sub-topics:

By structuring the page in such a way that there are logical connections from one section to another. For example, I started the page with the introduction to service and company, followed by the services provided, then reasons to hire the company, etc. All these subtopics are important for service pages as they answer the questions related to the intent.


Sentence-level optimization using semantically relevant keywords:

By making sure that each sentence is properly optimized using semantically relevant keywords based on reverse engineering the competitors and using a proprietary tool that I created. You can use on-page tools like Surfer-SEO to help with the process.


Internal links:

Making sure every other page on the website is internal linked up to the main page to form a semantic connection for the overall topic on the website. For the anchor text, I mainly used the exact match keyword and partial-matched keyword.


URL optimization
Keyword count and variation optimization:

Making sure that I have used the right frequency of each keyword on the page. For example, the word "cleaning", I made sure to check the competitors' average and see how many times I should use this word. You can again, use tools like Surfer SEO, but there's really no hard rule for this. I'd like to keep it a little lower than the average to avoid over optimization.


Entity connection establishment:

This is a special tactic that I used to help Google understand the website's entity better by essentially connecting the website to other properties via links and have a proper about us page to ensure that Google understand what the site is all about. What you can do here is have a proper about us page, with proper introduction to the business and things you do. For example, you can use the sentence like: "We are ABC and we offer XYZ". Use a simple sentence and tell Google who you are and what you do.

Off-Page Optimization
Once the on-page of the site is ready, next is to start looking into off-page factors.
Some of the things that I did are:
Press release from high-quality resources with semantic establishment optimization:

Press release is one of my favorite link building techniques and still works really well today. I'd like to use either brand name or URL as the anchor text for safety reason. I recommend you use this for newer website to help establish the initial authority.


Citations from high-quality directories and social profiles
Reviews and sentiment establishment:

Off-page reviews and what people say about your site (entity) is another important ranking signal for local SEO. So, I asked the client to ask his clients to leave positive reviews on some of the big directories like YellowPages, Yelp, etc.


Engagement optimizations:

I talk about how user signals are very important to your SEO strategy all the time and for this local SEO case study, I also made sure to run some engagement campaigns to help build up the brand recognition and engagement.


Obtaining high-quality links using guest posts and some private links
Google My Business Optimization
GMB or Google My Business is also another important piece of traffic generation for local businesses, so I made sure to optimize it properly. However, once the main website started ranking well, the GMB, which is connected to the site, also started ranking well as well because they both are connected.
Other things that I did are:
Fill up all the important details in the GMB such as the about info, the services, the category, etc.
Making sure that the NAP was already consistent (done while building up citations for the off-page)
Ask the clients to ask his clients for more reviews that contain the keywords or semantically relevant words.
Add some Q & A to the listing
Results
Here are some of the screenshots obtained from the ranking data and the client's email
An early review from the client: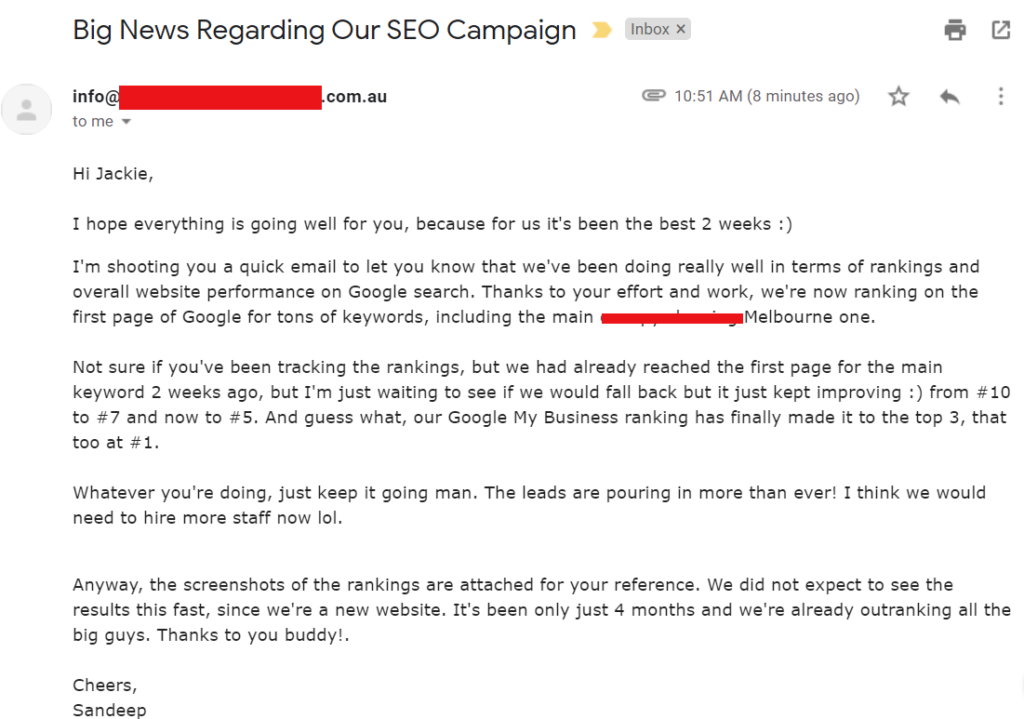 Rankings after 6 months from SEMRush: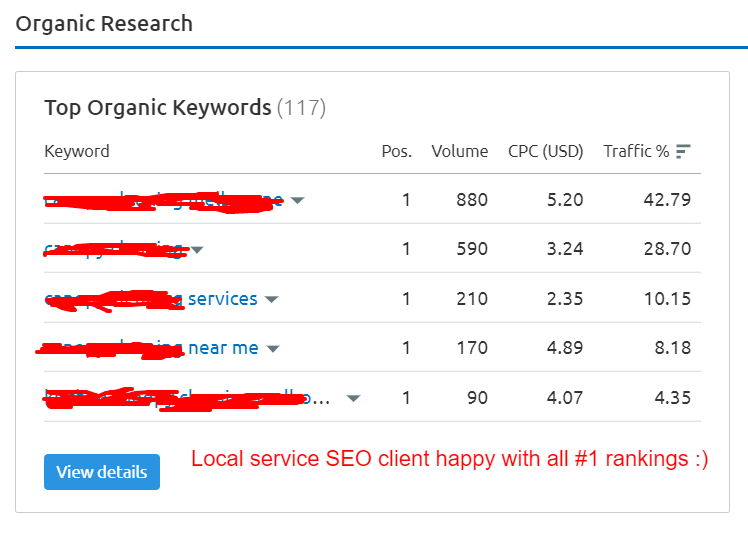 The GMB: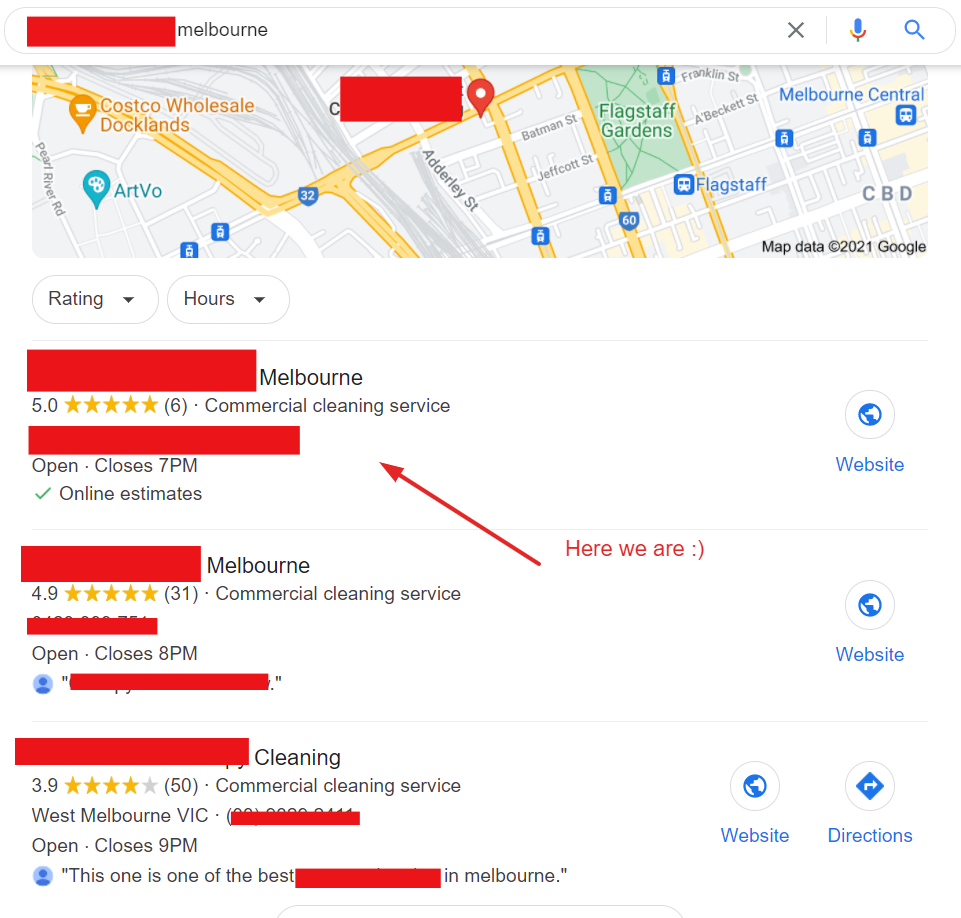 Want To Get Results Like This?
Are you looking for either an SEO service or SEO coaching? Get in touch with me today and let's see how can I help you.