How To Rank Without Backlinks: How I did It In 4 Months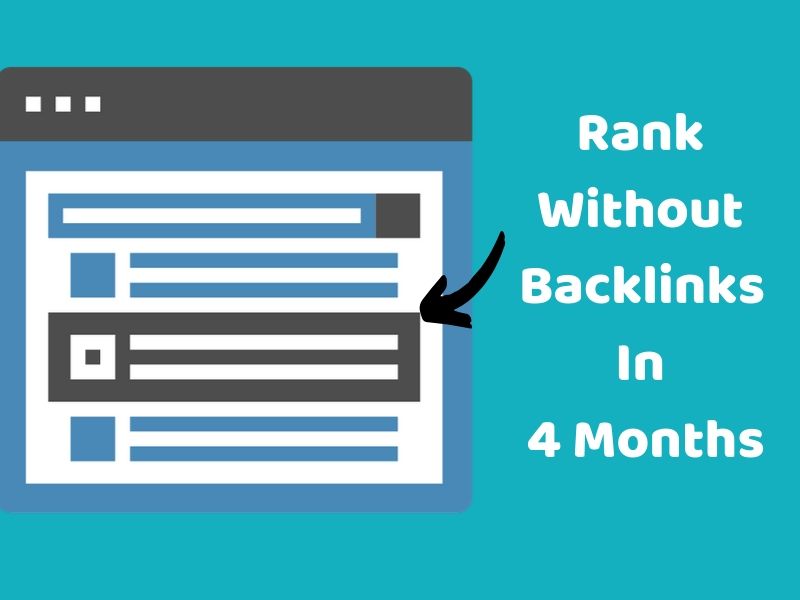 Ranking without backlinks! Seriously? Well, yes, and I have already done this, that too for a competitive keyword.
Are you struggling to rank your content because you find it difficult to do outreach for backlinks or simply because you can't afford an expensive outreach service?
Don't worry as in this article I will show you how I was able to rank on the first page of Google for the keyword "SEM For Beginners", a big, competitive keyword that has already been ranked by big websites.
Why Did I Choose This Keyword?
First and foremost is to understand why I chose this keyword in the first place.
If it's already been ranked by the big websites, why the heck did I go after it?
Before explaining to you the reason, let's first understand why the keyword is deemed as "competitive" or difficult to rank.
A keyword is deemed as "competitive" if big authoritative websites are ranking for it, which generally, those websites have lots of a number of backlinks pointing to either the page or the website itself.
So, is the keyword that I went after really competitive?
Obviously it is. Let me show you proof.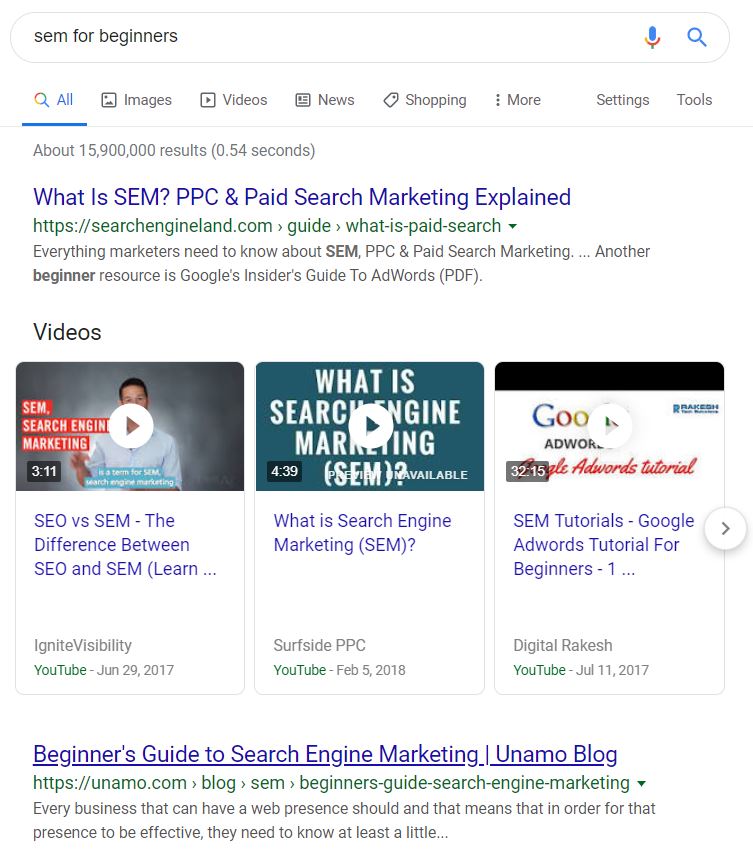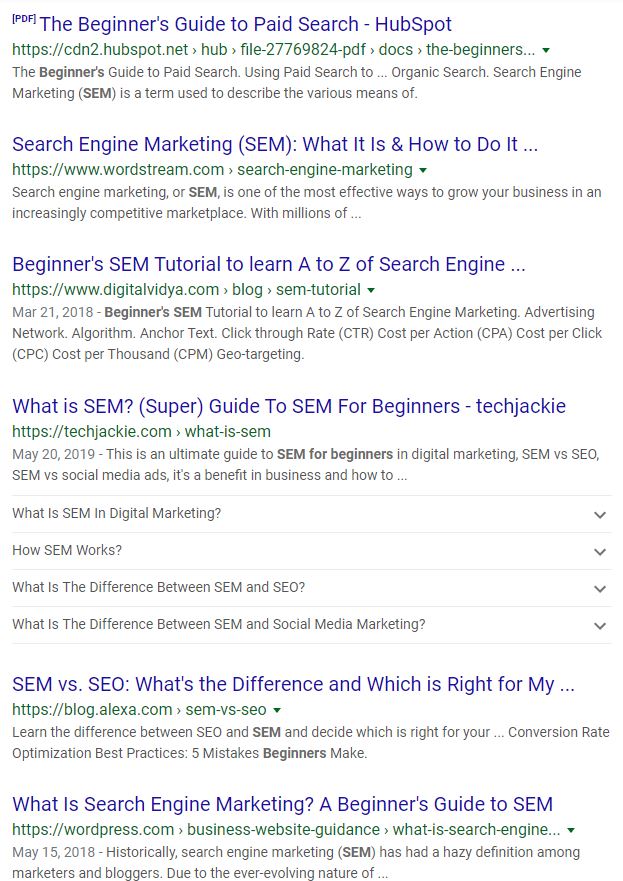 The above images are the search results for the keyword ranking on the first page of Google.
If you look at it, you will see that big sites like HubSpot, Alexa and WordPress are ranking for it, and then there's my site, sandwiched in between 🙂
The reason why I went after this keyword is that even though sites ranking on the first page are authoritative, their content isn't well written enough.
You may do a quick Google on it and analyze the content. Only the first 3 or 4 results are somewhat well-written. So I knew that there's an opportunity for me to really crack the first-page spot.
Disclaimer
Just a small reminder here, even though I mentioned I ranked the content without backlinks, it doesn't mean my website has no backlink at all.
But what I mean is that the particular page which I created has no backlinks to it.
Here's the proof using a free backlinks checker by Moz Link Explorer.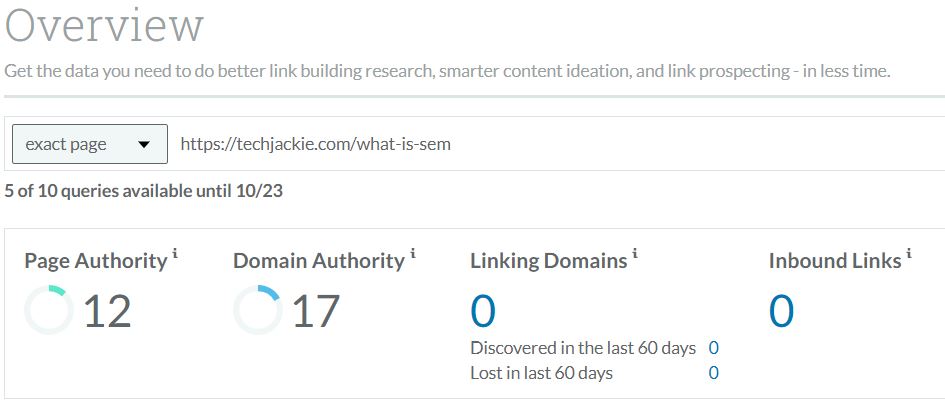 As you can see, no linking domains there, and my domain authority is just 17, nothing fancy here. In fact, it's roughly 5-6 times less than those big websites, that too, they have links to their page, but I don't.
This really proves that backlinks are not as important as before and proves that SEO can be done without backlinks.
So can you still do the same even if you have 0 backlinks to your entire website? Obviously. But you may want to choose a lower competition keyword than what I went after.
Steps To Rank Without Backlinks
So how can you go and replicate similar strategies which I used to rank without backlinks? I'll explain it to you in this section.
1. Make Sure The Keyword You're Going After Is Worth It
We're normally taught to go after long-tail keywords, which makes sense because they are less competitive and therefore, easier to rank.
But going after a big keyword like me is also worth a while. All you have to do is make sure that the content ranking on the first page isn't worth it.
Have a look around at the content ranking on the first page and see if they are deserved or not. If you think you can come up with something better, go for it.
2. Follow What's Already Work
That's right! Google just doesn't rank a website or page without a reason.
Make sure you follow a similar content structure that your competitors are already doing.
For example, the majority of my competitors contain sections which explain the definition of SEM as seen below:
Or the section which compares SEM to SEO as follow:
So what I did? I went ahead and created these 2 sections in my content: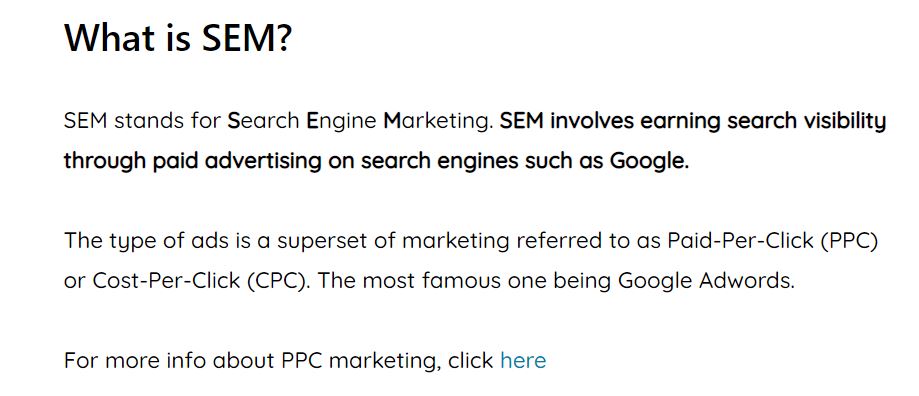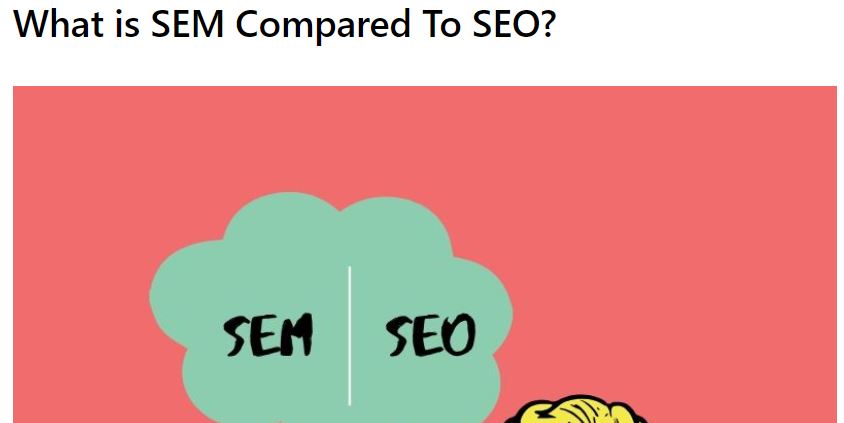 The key takeaway is you have to take time analyzing your competitors and see the common topics they cover in their content and create a better version of them.
3. Add Unique Points
Be unique. Besides copying on-page SEO strategies that already work from others, you need to come up with your own UPA (Unique Proposing Angles) or unique points as well.
SEO is all about adding values and standing out from the crowd. Without being unique, you're just going to be one among the top 10 ranking pages. In fact, without backlinks, your content might not even deserve to be there.
So start being creative and add values to your content.
4. Create Comprehensive Quality Content
A comprehensive content means content which covers each and everything users need to know about the content.
Don't worry about the words count. Sometimes, a 400 words long article can rank on the first page, if it satisfies what the users are looking for.
In my case, since it's a "guide" article, I knew I needed to dive deep into the topic.
Besides covering the topics that others have covered and included a bit of my UPA, I also added a section on "how to do SEM", which made it much deeper than any of my competitors.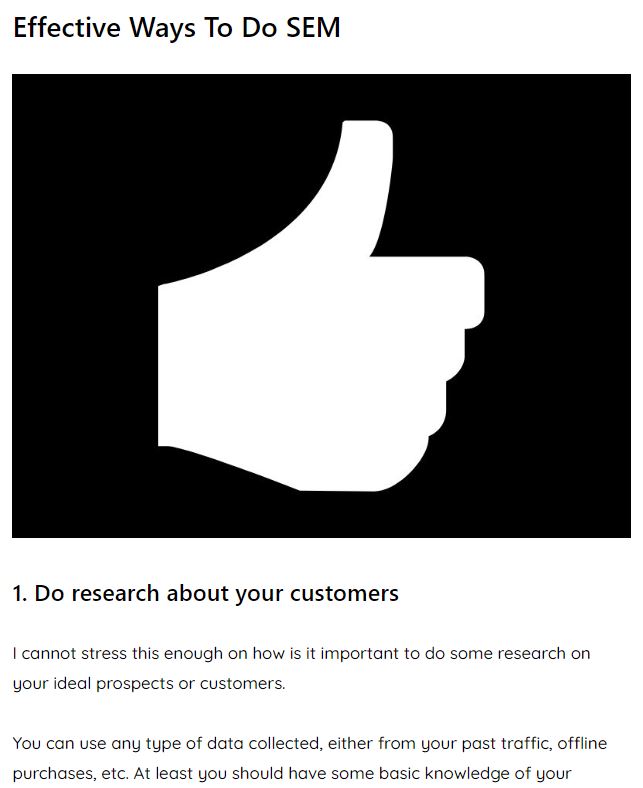 Add as many subtopics as you can if you feel that it satisfies what users are looking for. Go above and beyond their expectations.
However, make sure that you don't go overboard on this and start writing on something which may not be relevant to the topic.
Also, don't forget to add multimedia as well. No one likes reading "boring" junk of text nowadays. Add images, videos, infographics, tables, etc.
5. Relevancy Is The Key
The two main ranking factors in SEO are authority and relevancy. Authority mostly depends on backlinks whereas relevancy can be achieved by good on-page SEO.
Your goal to rank higher without backlinks is to make sure that your content is as relevant as possible.
Perform thorough keyword research for your content. Make sure your content has LSI keywords and synonyms in it. Use free tools like LSI graph to generate LSI keywords idea.
Internal links are one of the best ways to create relevancy around your content. Make sure your newly created content has some internal links to it from related articles.
This doesn't only help to flow the link juice from other pages to your new content but also build the content cluster or group of related content, which Google looks at as an on-page authority.
Duration It Takes To Reach The First Page
As the title of the article suggested, it took me roughly about 4 months to reach the first page.
Here's a screenshot from my Google Search Console over the course of 4 months:

The red arrow indicates when the article was first ranking in the top 100 on Google and the blue arrow indicates when it hit the first-page ranking.
If you check out my article, you will see that I published it on May 20, 2019, and it hit the first page on September 16, 2019 (almost exactly 4 months)
So, will you achieve the same result within the same duration? Probably.
In my experience, it takes roughly 3-4 months to see great SEO results. However, it could take longer or shorter, depending on various factors.
What I learned And Key Takeaways
To be honest, I felt quite a privilege to have achieved this milestone and to be able to guide you through how to do the same.
Just like you, I hate building backlinks. I know it's tough, time-consuming and risky. But hey, here's the proof, right? It's a big proof that backlinks are not everything in SEO.
Sure, they are one of the most important factors, but as time progressed, Google is getting smarter and smarter and leaning more towards content quality.
So always strive to create the best piece of content out there on the internet. Trust me, the internet is full of junk, and you can definitely stand out by providing values.
I'm not encouraging you to stop building or chasing after backlinks. Having them is worth a while and will definitely help you achieve more than you can ever imagine.
That's all for it! If you have any questions, make sure to leave them in the comment section and I'll try to answer them all asap