How To Optimize Old Blog Posts & Content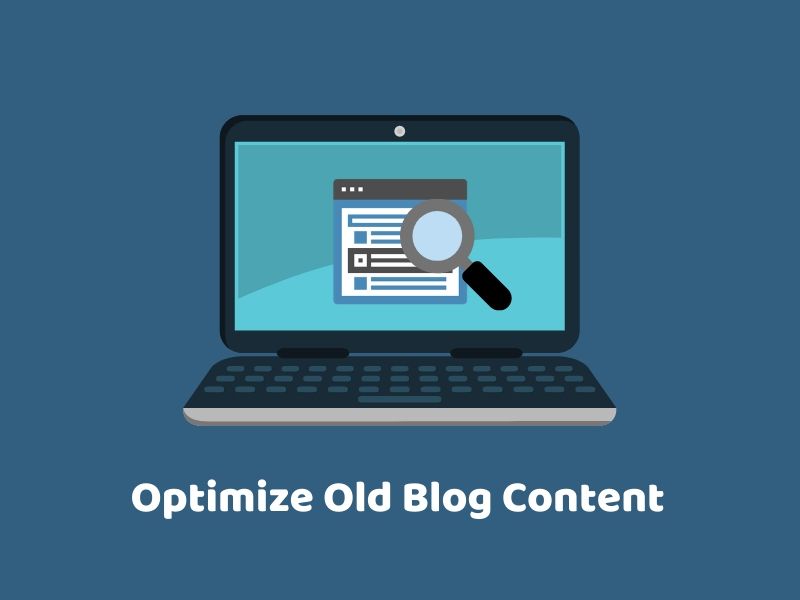 Ever since Google has rolled out its Freshness Update, it has become imperative for all websites to be loaded with content that is relevant to what people are searching for at the moment.
Imagine typing 'America's population' into Google and it shows you the country's population in 2010.
The Freshness update only made sense since every day 16 to 20 percent of Google searches are unique, which means that these searches are never asked again.
I'm sure you must have a dozen of blog articles on your site. But how do you keep up with this update?
In this article, I will tell you how to optimize old blog posts and refresh your outdated content to rank them higher.
How To Keep Your Website Fresh?
The obvious answer to this question is to churn out more content every day and this is true to some extent.
Researchers at Hubspot analyzed 13,500 blogs of their customers and they came to the conclusion: blog more, blog often.
Their research showed that companies that post more than 16 posts per month got 3.5 times higher traffic than companies that posted only 0-4 per month.
It is not just about traffic, companies that post more than 16 blog posts also got 4.5 times higher leads.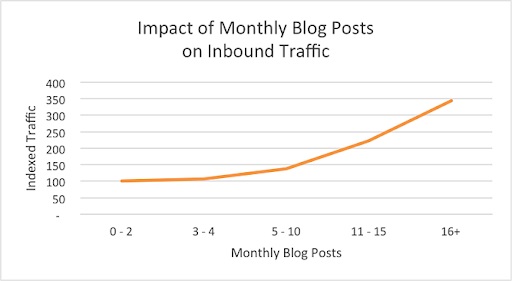 What To Do With Old Blog Posts & Content?
Writing new content and blog articles seem like the best strategy. However, it begs the question about what you need to do with your old content?
Do you just let it be or do you delete it? What happens when you delete old content and what happens when you let it stay on your website?
To answer this question, let's go down the lane when Google released its Panda update.
Google released the update in the first place because its search results were getting affected. The mission of this update was to filter out low-quality sites.
"This update is designed to reduce rankings for low-quality sites—sites which are low-value add for users, copy content from other websites or sites that are just not very useful.
At the same time, it will provide better rankings for high-quality sites—sites with original content and information such as research, in-depth reports, thoughtful analysis and so on."
A lot of sites that were faring well before the update, were hit badly. The only path to recovery was to produce high-quality content that people could find useful.
Keeping in mind the Panda update, it only makes sense to delete the old blog posts to maintain your website's ranking.
In fact, Google itself claimed that this is the solution to recover from the Panda update. "Removing low-quality pages or moving them to a different domain could help your rankings for the higher quality content."
Things, however, changed when a Google representative tweeted that the solution to get out of the Panda wrath was not to get rid of all the old content, rather website should revamp their content.

Cutting it short, the answer to this entire dilemma about what to do with old content or blog post is that you should get rid of any thin content, that is any pages that have very little or no content or any low-quality affiliate pages.
The Idea Behind Historical Optimization
You might be wondering why you should re-optimize your old blog content when you can simply just come up with a new one.
Well, to simply answer your question, your old content is an SEO treasure that you can easily mine.
Moreover, no matter how much content you produce, there is going to come a time when you will hit a plateau and historical optimization is the only way to break through it.
After Hubspot hit the historical optimization jackpot, Hubspot found that 76 percent of the monthly views came from old posts and 92 percent of the monthly blog leads also came from 'old posts.'
Equipped with this information, Hubspot managed to double its traffic by optimizing old posts.
How To Optimize Old Blog Posts?
Now that you are convinced (we hope so) about the potential of your old content, the next should be where do you start?
Do you just change the dates or just copy and publish them again?
That seems to be the obvious answer and a convenient one too, but historical optimization means that you need to refurbish your content, not just republish.
1. Conduct An Audit
In order to decide which content you need to revamp, you have to first conduct an analysis of your website and check what is working.
There are certain metrics that you can use such as page views, CTR, and engagement to check how every page is performing.
According to Neil Patel, Google Search Console is the best tool that you can use to audit your content because with Google Search Console you can go back around a year and compare differences.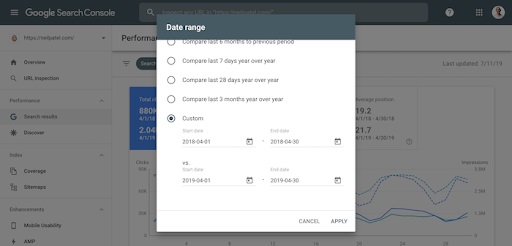 2. Compare The Metrics
The next thing that you need to do is to compare traffic on your old posts and then identify the ones that were once very popular, but don't get enough traffic as they used to.
To do this you need to click on 'date' and then select 'compare' and then go back up to one year.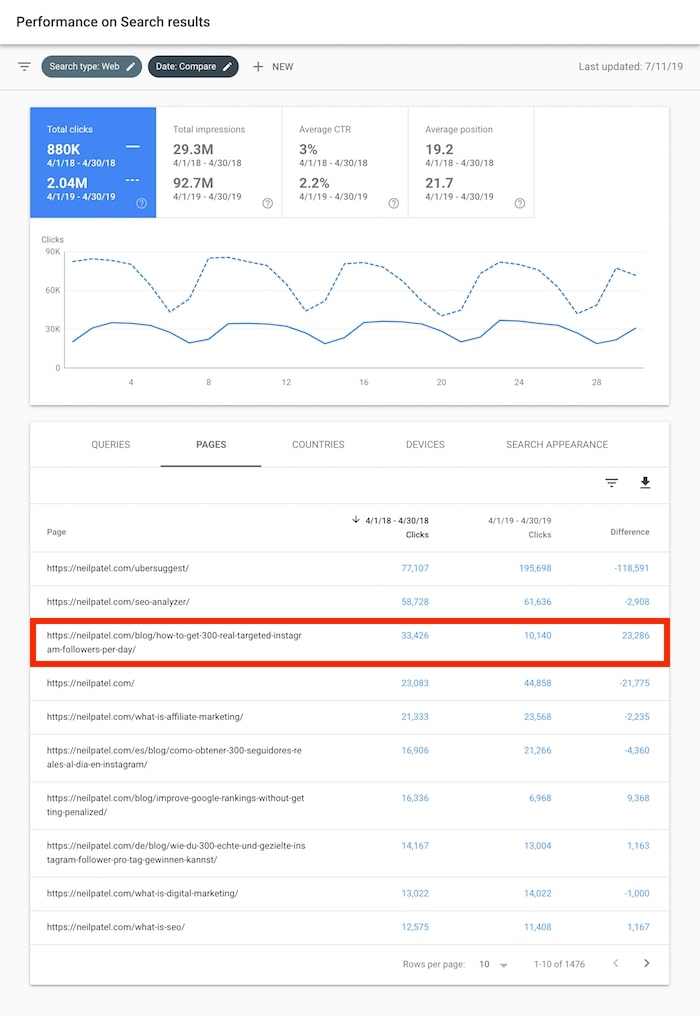 Select all those pages where traffic has dropped significantly from last year such as the one marked above.
Then you need to check are all those pages that have a lot of impressions, but their CTR is low.
The metrics show that Google is indexing these pages and they are showing up on the SERPS, which means that there is nothing wrong with their Meta Titles or Meta descriptions, rather the content is not what people expect and hence the CTR is low.
To find these pages, go back up to a month and analyze all of your pages by looking at their impressions, CTR and clicks.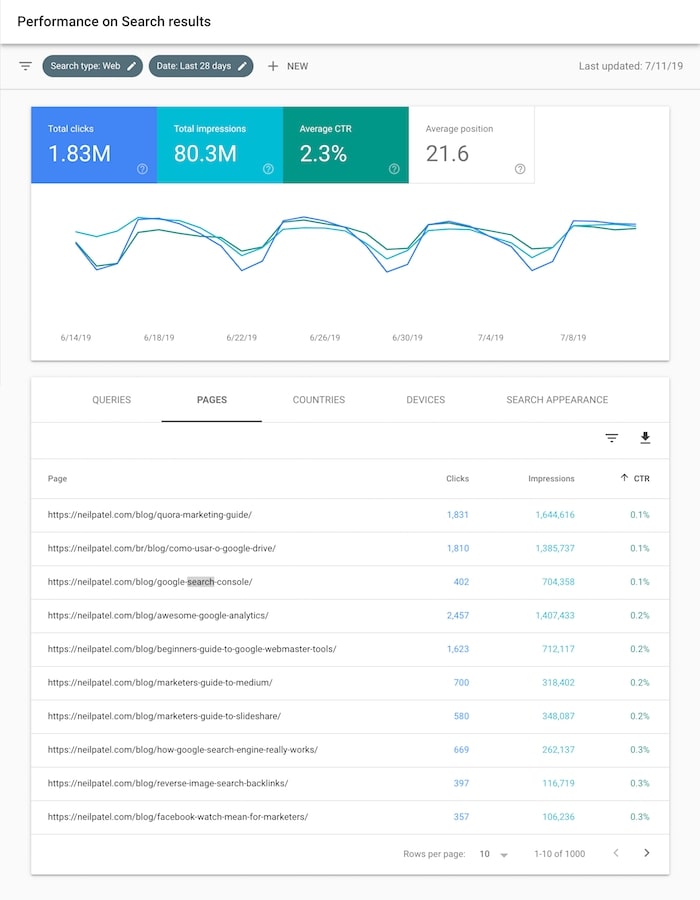 The figure shows that the pages on the top have high impressions, but the number of clicks is quite low. These are the pages that you need to target.
3. Update The Old Blog Posts
Once you have shortlisted both of these pages, you need to categorize them according to what amount of changes are needed in it.
You might not need to make any drastic changes in some because they are evergreen and their information has not become obsolete yet. You can reshare these pages on your social media accounts.
Then there will be some that you need to update a bit to make the content more relevant and fresh. Then there will be some useful topics, but the content might be poorly written so you will have to rewrite the entire thing again.
What To Do With Good Content?

What do you do with the content is perfect and doesn't need a lot of updates, but the traffic on it has reduced?
Well, there are various ways that you can try amping up the traffic. One thing you can do is promote it through email marketing, especially to your new subscribers.
With new subscribers, there is a good chance that they will click on the link and direct traffic to your site.
If you have a lot of good content on one topic, then you can convert it into an e-book and then promote that e-book. When someone comes to your site and you offer them a free e-book, your engagement automatically increases.
Other than that, you can also make snippets out of your content and promote it on social media.
You can also utilize Reddit and Quora to promote your old content. Quora and Reddit get a lot of traffic, but they are not very happy with self-promotion.
So, if you find a question that your blog posts answer share that information in the sub posts.
What To Do With Content That Needs Update?

For content or blog post that needs a little retouch, first make sure that all facts and statistics are updated.
Then, do some fresh keyword targeting. For fresh keyword targeting, take a particular topic and then search keywords for it.
See if you have the high ranking keywords in your article. If these keywords are missing then adjust your article accordingly.
In case, you already have high ranking keywords in your article, then include long-tail keywords in your article. Long-tail keywords are important considering the way search is changing.
Many internet providers now provide high-speed internet such as Windstream Communications, which has led to the proliferation of voice assistants, and hence people no longer use just one or two keywords to search their queries.
So instead of just writing running, they will tell their virtual assistant to 'find the best places for running' or 'what to eat when you run regularly.'
Google also relies on Latent Semantic Indexing to rank your page. Initially, Google used to know about a page based only on keyword and hence keyword density used to matter.
Today, Google uses LSI to see what the page is about. For example, if your page is about orange juice, Google will also see words such as fresh, natural, juicer, or refreshing, to make sure that the page is about orange juice.
What About Rewriting Blog Post?

So your topic is evergreen and it is still relevant, but the content is just poor and not worthy.
For such pieces, write them from scratch and then use Google 301 redirect. Make a new page and new optimized link and then use 301 redirect to transfer the PageRank.
Google only does that when the old page is closely related to the new page.
Final Note

That's all on how to optimize your blog content and refresh them.
You always need to be on your toes when it comes to content. You cannot just write and then forget it.
You need to keep it updated and refreshing in order to maintain your traffic. Remember old content is a treasure box, not some garbage that you can throw away.