[Imp] Facebook Ads vs Boosted Posts: Which Is Better?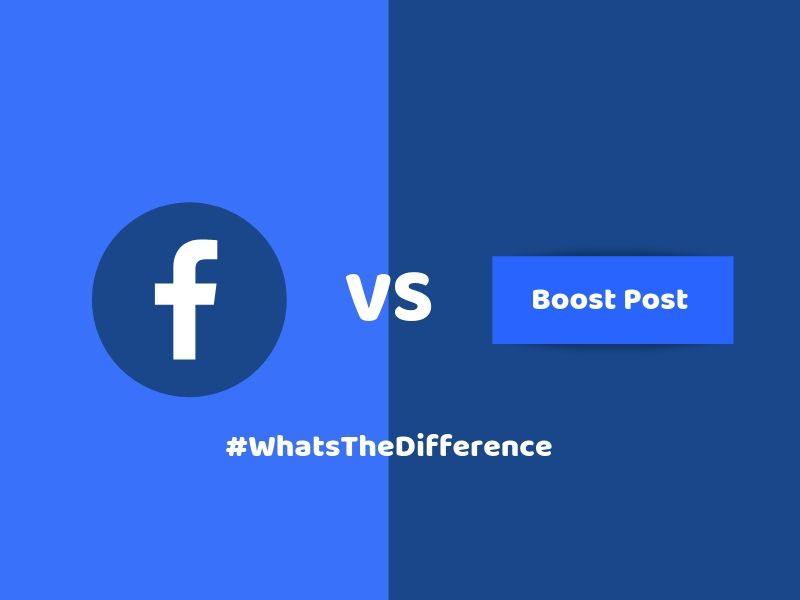 Facebook ads vs boosted posts, the two most common Facebook marketing features available, yet people are often confused as to which one to go for.
The main difference between Facebook ads and boosted posts is that Facebook ads are created directly within the ad manager whereas boosted post ads are created from the organic posts you posted.
Both the features, at the fundamental level, are still part of the Facebook advertisement ecosystem – where you pay money to generate leads, create awareness, and ultimately make sales.
But which one is better for you? This is I'm going to help you answer in this article.
Without much further ado, let's dive right in.
What Are Facebook Ads?
Facebook Ads are the advertising platform offered by Facebook where users can set budget, create ads campaign, set target audiences and finally deploy the ads with 3 main objectives in mind:
Awareness – For example: Generate brand awareness
Consideration – For example: To drive traffic to the website
Conversion – For example: To visit an online store and buy products
The above definition is just a 30,000 feet view of what are Facebook Ads. Besides, you can do a lot more with the platform.
For instance, choose where you want your ad to display, retargeting ( display the same ads to the same group of people), set goals, etc.
All the settings are configured via Facebook Ads Manager.
What Are Boosted Posts?
Boosted posts are ads that you create from posts on your Facebook Page. It is basically a method of converting your organic posts into ads.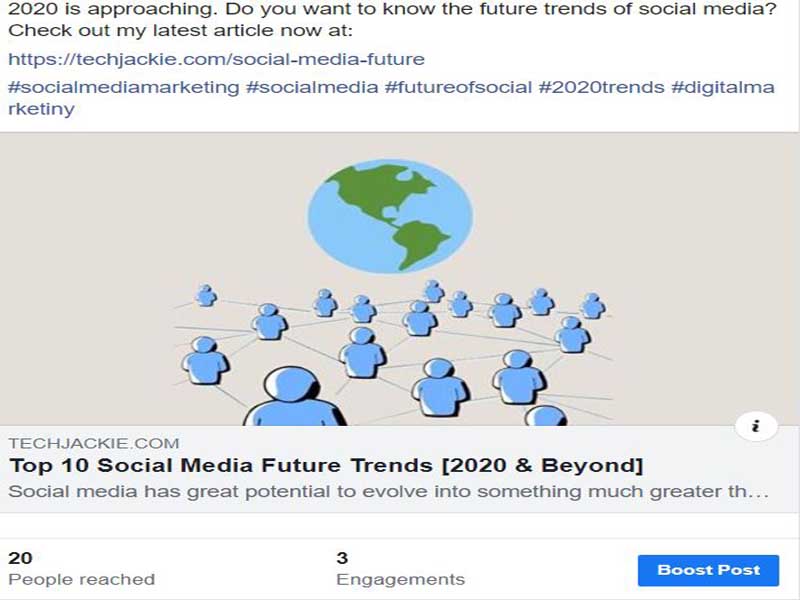 Boosting a post may help you get more people to react, share and comment on it.
You may also reach new people who are likely to be interested in your Page or business but don't currently follow you.
I won't dive into the details of each and every feature for both Facebook Ads and boosted posts in detail as they are beyond the scope of this article.
Facebook Ads Vs Boosted Posts: The Difference
Let's dive into the full comparison based on various features
1. Campaign Objectives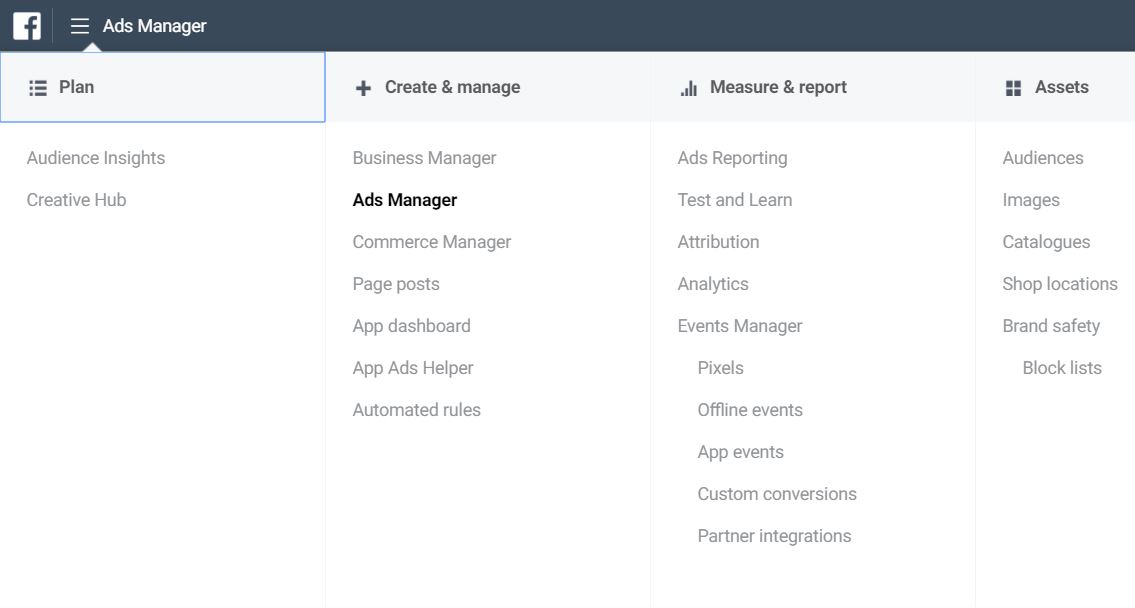 The Facebook ads campaign objective is defined as the goal you want to achieve off your ads.
When it comes to defining and selecting your objective, Facebook ads offer more options than boosted posts (11 vs 3).
Facebook advertising objectives are divided into 3 categories, with a total of 11 as follows:
1. Awareness:
Brand Awareness –
Increase people's awareness of your business, brand or service.
Reach –
Show your ad to as many people as possible in your target audience
2. Consideration
Traffic – Drive people from Facebook to any URL you choose
Engagement – Reach people more likely to engage with your post
App Installs – Send people to the store where they can download your business's app
Video Views – Share videos of your business with people on Facebook
Lead Generation – Collect leads for your business
Messages – Connect with people on Facebook, communicate with potential or existing customers to encourage interest in your business.
3. Conversions
Conversions – Encourage people to take a specific action on your business's site
Catalog Sales – Show products from your e-commerce store's catalog
Store Trafic – Promote your business locations to people that are nearby
The reason why you want to have more objectives at your disposal when advertising on Facebook is that you are defining what actions you want audiences to take when they see your ad.
You can also follow your buyer's journey directly, to better optimize your campaigns towards your audience's specific needs.
By choosing certain objectives you are spending your advertising dollars more efficiently at an audience that is likely to convert into a lead or an eventual sale.
2. Targeting Options
The ability to target audiences based on various parameters gives Facebook Ads an edge over other ads platform in the market.
(Check out my Google Adwords vs Facebook Ads full comparison to learn more)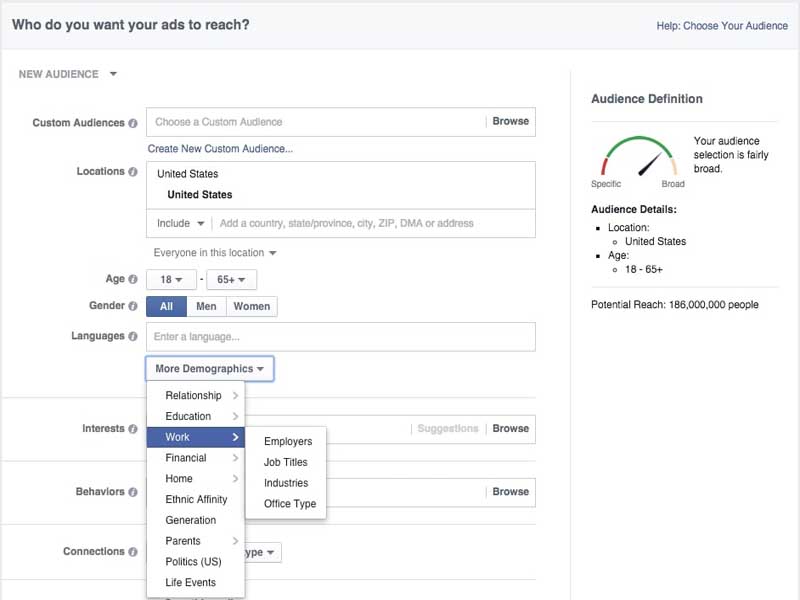 The reason why you should use Facebook ads is that you have more targeting options than boosted posts.
Besides, you also can target your ads on specific people or groups of people based on various activities using the Facebook ad manager.
We can do this via a custom audience, a lookalike audience, and a saved audience.
1. Custom Audience
With the creation of a custom audience, you have the ability to create an audience with people who have already shown an interest in your business based on five options which include: uploading a customer file, your website traffic, app, and off-line activity, as well as engagement. 
This allows you to re-target your ads to the warmer audiences who have already engaged or known about your business brand, thus improve the conversion rate.
2. Lookalike Audience
Lookalike audiences are a Facebook segmentation tool that finds users whose demographics and interests are similar to those of your existing followers.
You can create lookalike audiences based off of who likes your page, conversion pixels, or custom audiences you already created.
Facebook Pixels is a snippet of code pasted on your website to keep track of the users' activities on your site.
This includes things like most page viewed by the users, which sections are being viewed most, did the users add the products to cart and left without checking out? ,etc.
This helps increase more ROI and better conversion. In fact, retargeting ads are 76% more likely to get clicks than regular ads.
3. Saved Audience
Saved audiences allow you to save frequently used targeting options which allow for autonomy and make creating future campaigns faster and easier.
3. Ad Placement And Customization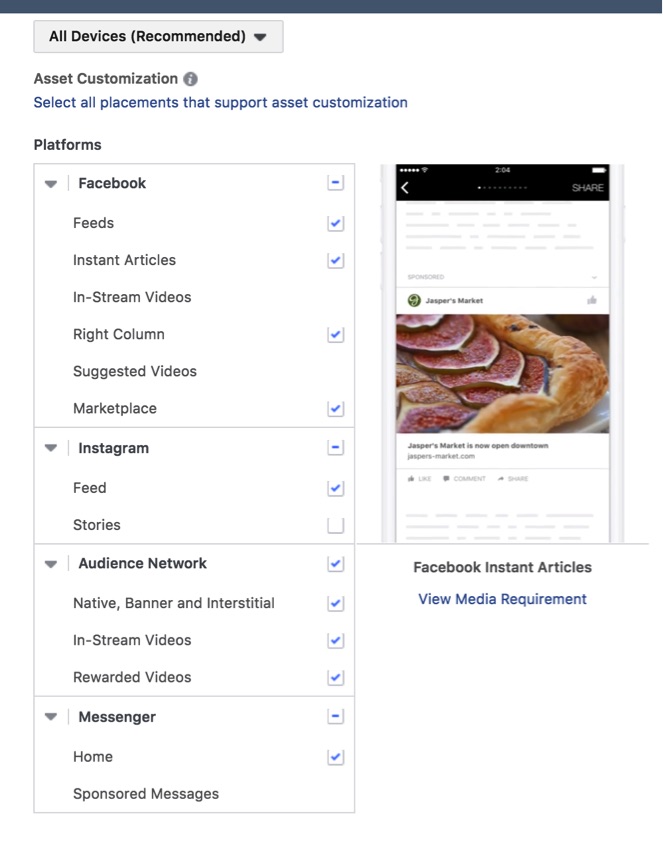 Facebook gives you numerous choices when it comes to finding the right place for your ads to be shown on Facebook.
With boosted post option, you get a choice to only place your ads on Instagram, Facebook, and Messenger whereas, with Facebook ads, you can customize the placements with more options.
Some of the more ad placements include:
Facebook News Feed
Facebook left-right columns
Messenger ads
Instagram stories
Instant Articles
Various audience network
Mobile apps
In-stream videos
And much more…
This is very effective as you do have full control over the ad placement, according to your targeting.
4. Ads Creatives
To make your ads stand out from the crowd, you need to have great ads creatives. Unfortunately, if you decide to boost your Facebook post, you don't have many options to choose from.
With boosted posts option, you get only to select either single image or video whereas, with Facebook ads, you can expand your options with the carousel, slideshow, and collection format for your ad creative, in addition to the single image and video ad format
1. Carousel Ads
Facebook Carousel ad is an interactive ad format that allows you to display up to 10 images or videos on "cards" within a single ad.
Carousels are effective not only because they encourage prospects to interact with your ad, but because they just flat out allow you more room for products or portions of your brand story.
2. Slideshow Ads
Slideshow ads are video-like ads that use a series of still images and effects that show motion, play sound, and display text to showcase your story. 
You can use your own images, or you can select from a variety of stock images available in the ad creation process.
3. Collection Ads
Facebook collection ads are a mobile-only format, designed to maximize the mobile user experience.
Ads are found on both Facebook and Instagram. People who tap on collection ad are seamlessly taken to a fast-loading, full-screen experience to browse or learn more about the ad offer
5. Budget And Scheduling
Facebook ads give you more flexibility when it comes to setting up your budget and scheduling your ads. This gives an edge over boosted posts that only limits you to setting up your budget and launching your ad.
This is especially effective if your target audiences are not active on a certain period of the day or you want to have a limited period till when you want your ad to continue running.
Plus, you can also select to let Facebook charges you based on the daily budget or lifetime budget.
Having control of your budget and schedule allows you to maximize your advertising dollars so that you can get the biggest ROI on your ads.
6. Split Test Capability
One of the most important things for any online advertising is to be able to split test and see what works.
When you launch your ads using the Facebook Ad Manager, you can have a clear view of how each one of your ads is performing, based on the various targeting options you set for different ad sets and ad creatives.
With Facebook Ads you have the ability to create different ad sets and also A/B split those ad sets so that you know who and where to maximize your Facebook advertising dollars to.
Here some of the testing you can do:
Audiences
Targeting
Languages targeting, genders, and age groups
Call-To-Action button options
Placements
Ad creatives
With boosted posts, you don't get the ability to do this. All you can do is simply boost each of the posts and monitor each result separately.
7. Ease Of Use
Unlike Facebook Ads, Boosted posts don't require you to access the may-look-confused ad manager.
When you push a "Boost Post" button, you will be prompted to a step-by-step window which will guide you through certain steps – Set up a Call-To-Action button, set target audiences, choose a payment method, etc.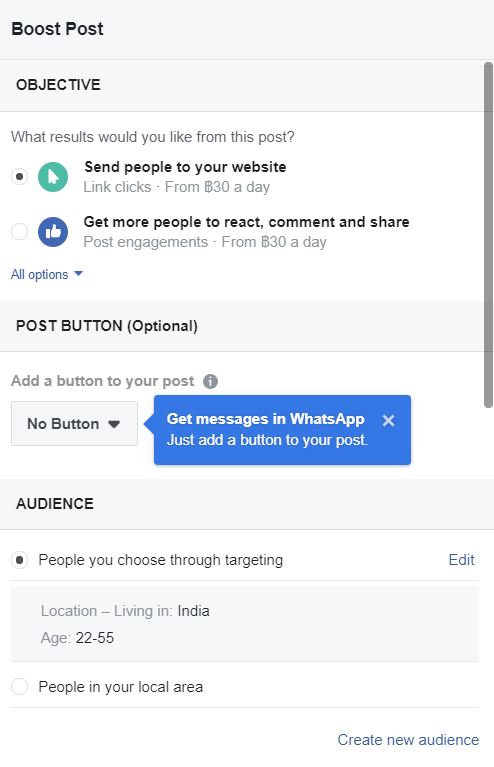 Once you're done, Facebook will automatically convert your original post into an advertisement complete with a "sponsored" label in the top-left corner.
Facebook Ads vs Boosted Posts: Which Is Better?
So here comes the conclusion. Without much saying, you can clearly see that Facebook ads are better than boosted posts in the majority of the areas.
The only feature that boosted post has an edge over the Facebook ad is usability. Boosted posts are a great option when you want to create instant post engagement which can help maximize your existing audience's engagement.
But overall, the clear winner is Facebook ads.
That's all for the Facebook Ads vs boosted posts. Let me know which one do you prefer and why?