The Ultimate Video Marketing Guide & Strategies 2019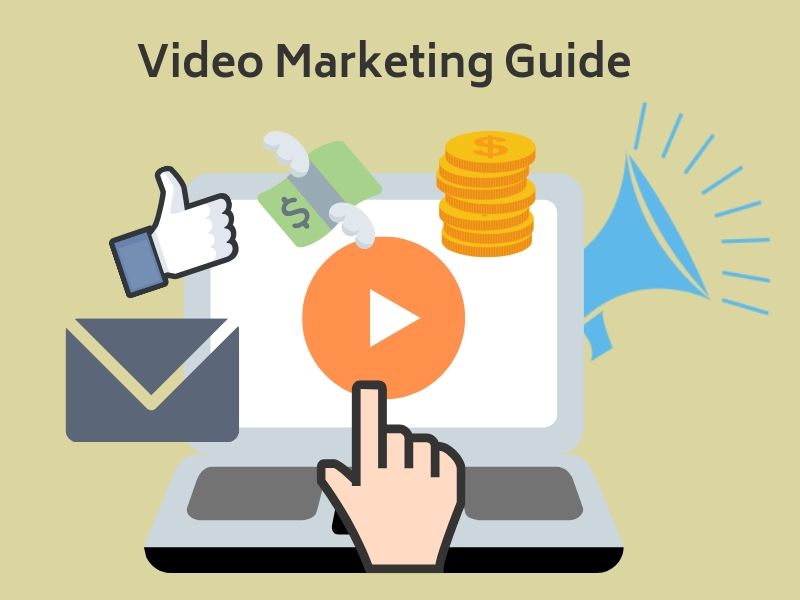 Even though you might have heard of the term video marketing, there are certain nuances you must familiarize yourself with to grasp the entire concept.
In this video marketing guide, I have covered every aspect of video marketing from A to Z which can equip you with the right knowledge to incorporate it in your business and reap benefits from it.
Without much further ado, let's jump right into the basics.
What is video marketing?

Online marketing comprises of multiple techniques like Search Engine Optimization (SEO), Search Engine Marketing(SEM), social media marketing, content marketing, and so on.
For a complete Search engine marketing guide, check out my article here.
Most businesses rely on conventional techniques like SEO, SEM, etc. for marketing their products online. Video marketing helps you step up your game.

The definition of video marketing is evident from its title itself.
In simple, straightforward words, video marketing is a technique that uses videos to promote your products and services and create an awareness in the market regarding your business.
In fact, it is considered as a subcategory of content marketing, simply because of the fact that it requires churning fresh content.
The only factor here is that all your content comes in the form of videos.
But what is the reason that it is generating such a buzz these days?
As it rapidly gaining prominence amongst business owners and users alike, most of us have heard about it on different platforms.
Why are an increasing number of companies switching to video marketing? What is the advantage that it lends?
Let's get to know a little bit more about it.
Why is video marketing so effective?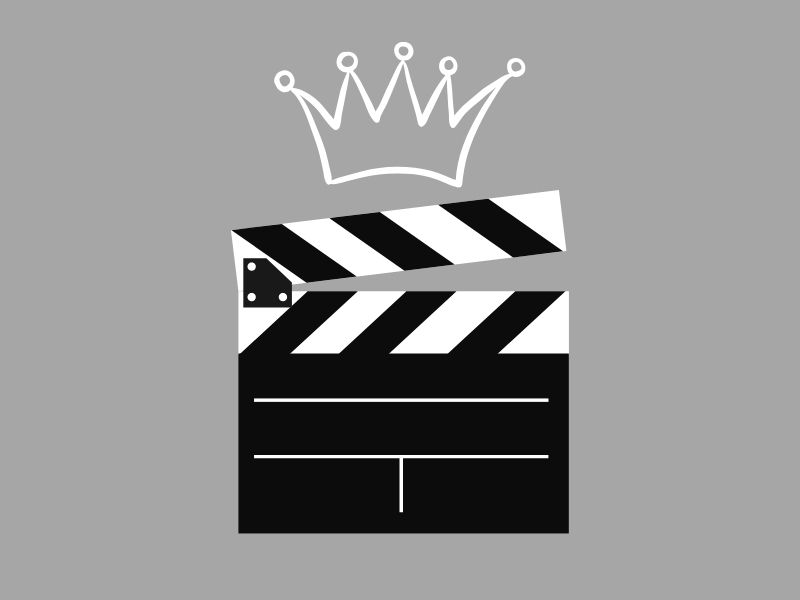 Next, in the video marketing guide, let's see why it's important.
Who doesn't like videos? When it comes to learning, understanding, or even casual entertainment, video appeals to people of all types provided you have an appealing narrative.
People love videos. No doubt this makes YouTube the world's second-largest search engine.
Videos are considered as engaging content in nature as they appeal to all your senses.
You can watch, listen, and even read simultaneously in a video. Audio-visual techniques always tend to have a better impact compared to texts, or images alone.
Not only do they simplify the content completely, but also aids in helping you remember the content.
One added advantage of using videos is that you can easily share videos these days on social media platforms.
To accommodate videos on their platforms, most websites like Facebook, Instagram, and Youtube have optimized video streaming with tools like higher upload rate, background playback, offline videos, and so on.

Apart from the aesthetic appeal, video marketing is mainly considered as marketers' favorite tool because of its high return on investment (ROI).
Compared to the amount that one spends in creating a video, the amount of outreach that one obtains is significant.
The year 2016 is considered as the year when video marketing gained prominence.
Most experts consider it as 'the birth of video marketing.' Since its inception there has been no looking back, the trend has grown tremendously.
From unboxing videos to food videos to video resumes, video marketing has penetrated every segment of the market.
The numbers do not speak a different story.
Video marketing is compelling has been proven time and again by the statistics. Have a look for yourself what the statistics prove:
Video Marketing Statistics

According to a study conducted by Hubspot, video marketing has been on a steep rise. As per current statistics, 81% of businesses now use video as a marketing tool.
Statistics on Google supported the claim that online videos are preferred over television. One such study claims that 6 out of 10 people would rather watch online videos than television.
Every year the consumption of Mobile videos rises by 100%. This means that twice the number of people watching mobile videos as compared to the previous year. (Insivia)
Tech giant Cisco has predicted that by 2022, online videos will make up more than 82% of all consumer internet traffic. This is 15 times higher than it was in 2017.
One tall claim by a Facebook executive even predicted that their platform will be all video and no text by 2021. (Quartz)
A graph on Google Trends incorporating data from the past 5 years confirms this: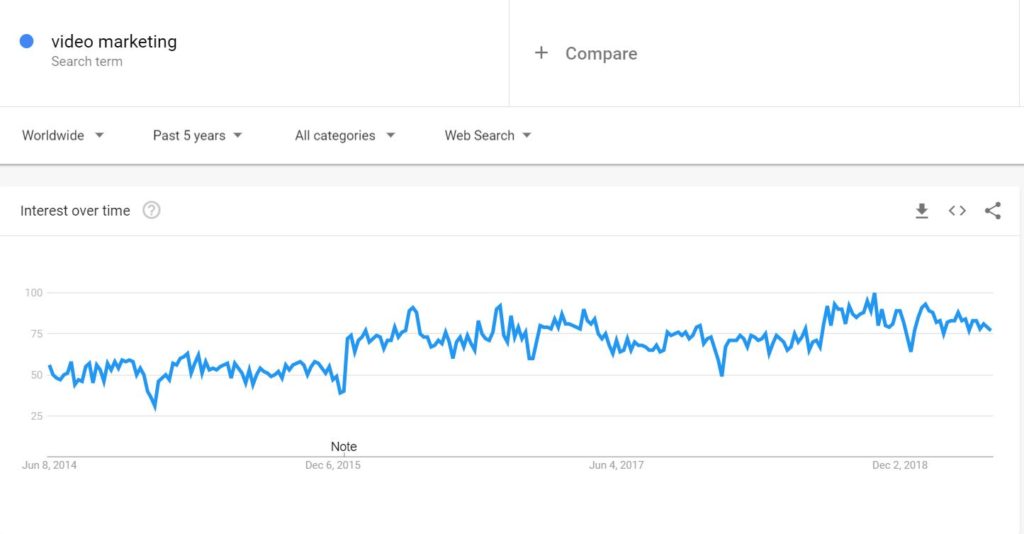 As you can observe, the graph of video marketing trend shows a steady rise for the search term video marketing, when the average values are considered.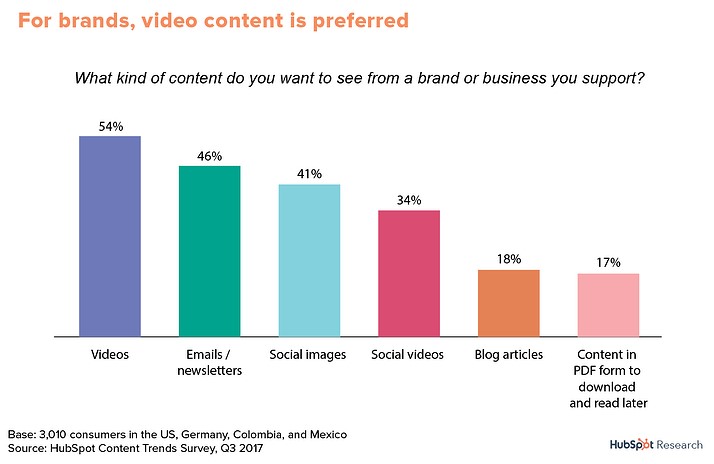 Another stats here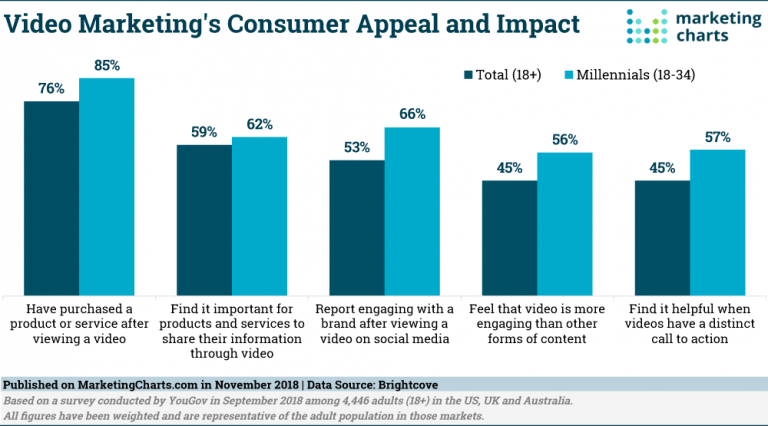 Now that you have such strong evidence-based reasons, I think it is almost impossible to deny the fact that video marketing is definitely a trend and can change the fortunes of your business.
After that we've understood the importance of video marketing for a business, let us help you get started with video marketing.
Video marketing can be of multiple types depending upon a number of factors like your product category, your target audience, geographical, and social influences, the budget, etc.
In 2020, video marketing will become a future trend of social media.
These factors culminate to help you create a video that suits your needs the best. Let us understand a few categories of marketing videos to help you get acquainted.
Types of marketing videos

There is a very interesting concept when it comes to marketing, known as the 'marketing funnel.'
It explains how do you begin marketing and work towards converting a lead to a deal.
Video marketing also has the same concept and follows a similar pattern. The funnel is modeled similar to the fundamental marketing funnel.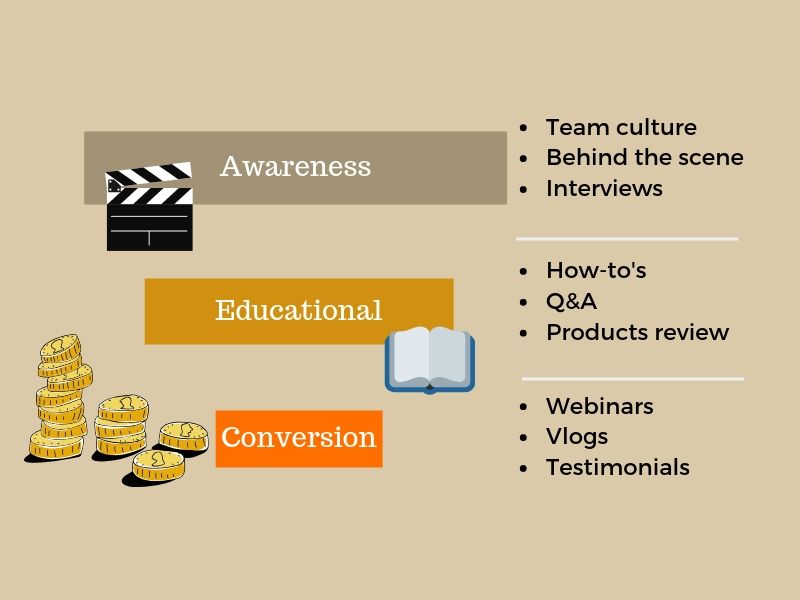 Every marketing funnel generally consists of the following stages. It represents a brand's journey from generating awareness about the brand to making sales.
Let us dive deeper into this video marketing guide and understand the funnel in brief, which can help us get an idea of the various marketing videos you can create as a brand.
1. Awareness
The first step in marketing your product is capturing the attention of your prospects which can help you generate leads.
Your marketing video can simply be an awareness video. Hence, these types of videos are generally aimed at familiarising your audiences with your brands, products, etc.
It helps create a sense of inquisitiveness in your target audiences, hence the general sense of such videos should not be too forceful.
Your aim here is not pitching your product, so it's okay if you avoid all the technical details.
You can create a video with humorous or informative undertones which simply has the Unique Selling Points (USP) of your products or services.
2. Educational or nurturing
If you have an already established brand or have sufficient awareness regarding your brand, you can create an educational or informative video which can help you nurture your leads.
It instills a sense of faith and trust amongst your target audiences.
Generally, the videos in this category aim at educating or providing free values to your prospective clients.
The amount of trust that your clients put in your brand plays a key role in influencing their buying decision.
Again in this type of category, you should try presenting the content from a neutral point of view. This helps establish the credibility of your brand and focuses especially on the product details.
Brands that create videos on the basis of all claims and fake promises may initially attract a large number of audience, but once their cover is blown, the brand might completely cease to exist.
3. Conversion
This type of video lies at the bottom of the funnel and created once you have established your brand as trustworthy and induced sufficient knowledge about your product.
In such types of videos, you can focus on entirely selling or promoting your products or services.
These videos specifically focus on your product pricing, promotional offers, and other details essential for making a sale.
Since you have already created a framework on which you can place your brand, creating a conversion video is specifically aimed at increasing sales.
These videos have a direct effect on your sales, hence they should not deviate from its aim.
Now, let us focus on the type of content that you can use for each type of video.
Awareness videos
1. Company/Team culture
Generally, videos about your company/team culture work quite well when it comes to creating an awareness of your brand.
Hence, these videos are quite popular among video creators. It is also is probably one of the most common types of videos you might have seen.
These videos are everywhere, be it YouTube or social media websites and apps like Facebook or Instagram.
The reason that these videos are used so frequently is that this type of video works quite well. It sheds light on the organization's values, motive and mission.
Providing such details imparts a certain degree of intimacy which is essential for building an emotional connection.
Such videos are raw with emotions. For example, the celebration of the team or the achievement of an individual in the company.
"Meet Our Team" by RW Marketing is one of the examples of an awareness video. It introduces the company's team members, that too, in a funny and creative way.
It centers around the simple human emotions like making mistakes, and introduces the line of work of each team member without stressing on anything about their products and services, and yet helps the audience get a brief overview of their technical capabilities.
2. Behind the scenes
All of the love watching behind the scenes action especially at the end of movies when the credits roll out.
The general reason why people love behind the scenes videos is that they get to know the insights of the process, procedures, projects or situations.
It introduces your audience to the painstaking effort that went behind each scene in a friendly tone.
It also provides an opportunity for your customers to see things from a different perspective and helps stress upon the fact that the team that goes behind the creation of any product is human too.
The team makes mistakes too, finds these little mistakes funny, and later overcomes a set of difficulties to achieve something.
You do not have to spend a lot of time creating behind the scenes videos as you are not required to create polished content.
You can avoid editing the videos and instead focus on incorporating a lot of raw footage to help provide a feeling of things as they are.
3. Interviews
We tend to look up to people who were in the same situation or at the same level as us.
Companies or organizations use this feeling of empathy method to capture people's attention by interviewing the people they admire or people.
These videos include professionals or experts in the field who were previously facing similar issues and have experienced success after a hustle.
Success stories of common people who share some similar trades with you are quite helpful in such circumstances as it makes the audiences feel that if they could, you could do it too.
The more you focus on giving insights to the story of the interviewers, the more details you can include the benefits of your products or services.
This can prove to be quite beneficial for your marketing campaign.
Educational or nurturing videos
1. How-To's
Videos that guide people, more popularly known as How-to are quite popular with all types of audiences.
Generally, when people are stuck in certain problems, they look up to how-to videos.
As you help people with solutions, these videos are considered as the most powerful type of videos.
Brands that help people gain a lot of trust from the viewers. Video marketing helps you emulate the situation exactly as it can occur and the ways that a user can use.
It indirectly contains a short demonstration of the product that you're willing to sell, and how using it can directly benefit the user.
How-tos are perfect to help you establish the fact that you have technical expertise in the field that people are looking for solutions.
If you can provide deep knowledge of expertise in demonstrating how to do something, it is likely that the prospects will turn into customers.
2. Q & A
Q&A type videos are not very different from interviews and hence are mostly clubbed with interview videos.
It is common knowledge that your prospective customers might have questions like 'will the product actually work?', 'why is it so expensive?', or 'what if doesn't work'.
Q&A videos are centered around solving these some common questions. You can always add visual appeal to your Q&A videos that explain the process behind the working of your product.
The justification for your prices and any guarantee or warranty that you provide.
If you answer the questions that your prospects may already have regarding the services or products, you eliminate the waiting time that your client might take for making a buying decision.
These videos are specifically helpful for B2B companies, or organizations that are in the services sector.
2. Products/services review
These types of videos generally take a product under consideration and demonstrate the complete ins-and-outs of the product.
Such videos contain a complete breakdown of the product like its specification, pricing, comparison, with similar products, user reviews, and performance when subjected to different test conditions.
These videos are particularly useful if your company is into making technical gadgets or parts/products that accompany technical gadgets.
People who buy these products mostly make a decision only after considering the technical details, hence such videos should focus on in-depth understanding from a neutral stance.
It is understood that no product is perfect.
There might be some flaws, but if such flaws are negligible when compared to what the benefits that the product offers your audiences will be naturally drawn to the product.
It will also help you project an image that you are honest about your products or services.
3. Tutorials
Tutorial videos are also taken into consideration when you have a technical product that the audiences might find difficult to grasp, similar to How-to videos.
It also lends a platform for you to demonstrate your product and highlight the benefits directly in the video.
Tutorial videos can also be created as a series of shorter videos that can help build an audience's understanding.
Suppose you have created software or an app which can help people track their footprints on social media, you can create a series of tutorial videos,
like "how to check who has unfollowed you on Instagram" or "Find who likes your posts the most", and such similar tutorials which the users find interesting.
You can subtly place your product in such a scenario. This helps highlight the efficiency and ease-of-use of your products.
Tutorials are particularly useful in the case of software products directly aimed at end-users.
Conversion Videos
1. Webinars
Webinars are short for web seminars, these are similar to tutorial videos except for the fact that most webinars require users to make prior signup and are available only for a short period of time.
It creates a sense of urgency amongst users.
2. Vlogs
Vlogs or video-logs are the first-person of things. Generally, the person who's making the video gives a narration of things as they happen.
3. Testimonials
Testimonials are messages from your previous clients who have had a good experience with you.
People in these videos are the ones generally working at reputable positions in an organization.
Now that we have a strong understanding of how to make videos, let us understand how can you create strategies to place, distribute, and attract audiences.
Video marketing strategies
This video marketing guide wouldn't be complete without
These are a few strategies that you must use for creating an effective video marketing campaign:
Content is king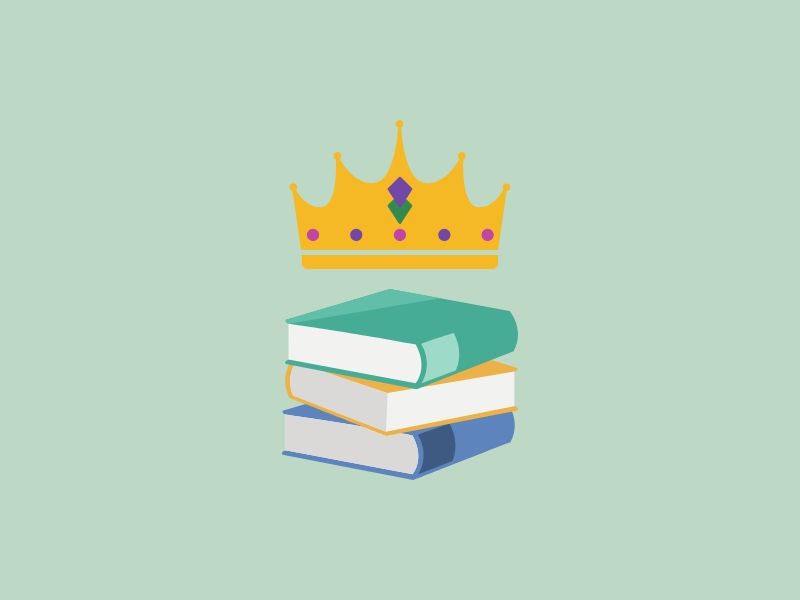 When it comes to making a video, most users tend to watch content that helps them in some way or the other.
Be it a stress buster, or a simple tutorial, you're competing against hundreds of companies posting similar videos.
What differentiates a good video from a not-so-good video is the content that you use, how you present the content, and the time you take to present the content.
You must create engaging videos that strike a chord with your audience. Studying your competitors can also help you come up with better content and avoid the mistakes they make in their videos.
Optimize your content
Identifying search keywords is one of the key aspects before creating a video marketing campaign.
As there are multiple videos vying for the top search spot, you must use SEO such that your content can be indexed by the search engines.
Keywords should be spread evenly throughout your content, and also the metadata such that you achieve organic growth for your videos and they land up on top of every search result.
This improves visibility and helps you connect with the target audience that you desire.

Use the right thumbnail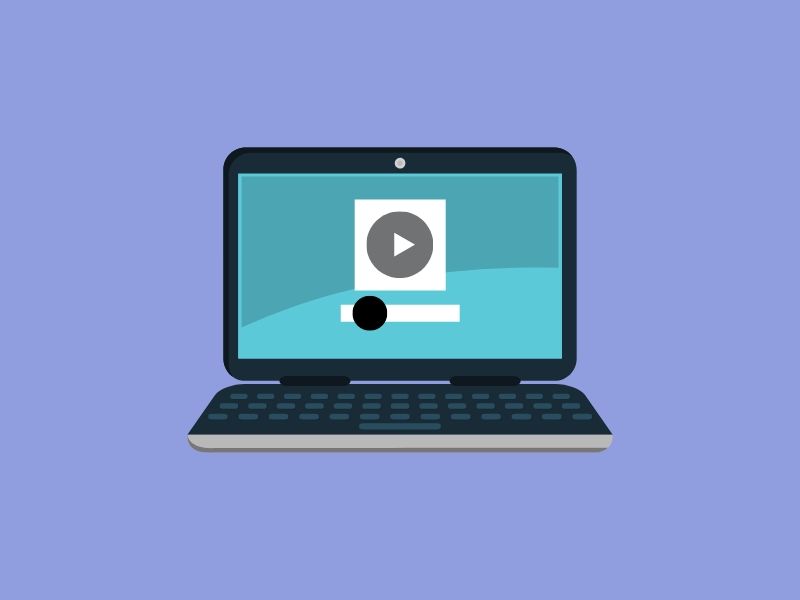 Thumbnails are the first impression that people have regarding your videos, but most of us tend to neglect this aspect.
It might be all the difference between an audience clicking your video or not.
Thumbnails that generally involve humans making eye-contact or highlights the key stats or images in your videos are a good way to grab eyeballs.
Using thumbnails that are not a part of your video may result in people downvoting and disliking your video.
Combine video marketing with email marketing
According to a study by Techmagnate, the word 'video' in the subject line of an email increases the open rate by 19%, and the click-through rates by 65%. It also decreased the number of unsubscribers by 26%.
This highlights the importance and benefits of using videos in your email marketing campaign. (Click here to read about email marketing guide 2019)
Create a call-to-action (CTA)
The primary aim of video marketing is to increase the number of audiences visiting your website, product pages, etc.
Without a strong CTA, your video marketing exercise might prove to be futile.
Create links or content which directs a user to other videos created by you or the landing page that you wish them to visit.
At the end of every video or in the text attached, include a clear CTA which creates an urge to engage with your brand.
Add the share option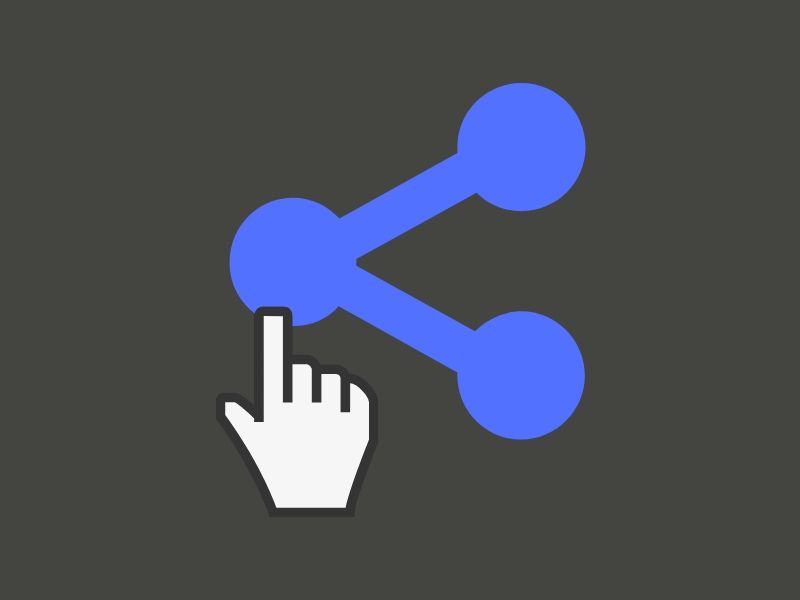 The popularity of any video depends upon the views that it generates.
Simply putting your video on popular sites cannot ensure the popularity of your video unless the audiences share your content.
Adding a share button to the video player helps users share the videos on other websites without having to leave the player.
The number of likes, shares, and comments, are not only essential for publicity but also plays a key role in improving the organic ranking of your website.
However, do not be too forceful in your approach, instead focus on creating content which compels your audience to share it.
Explore other platforms
Posting your videos does not cost you a dime. So why restrict yourself to only YouTube or the channel of your choice.
You have a plethora of channels helping you share your videos such as Break, DailyMotion, Twitter, etc.
Even if your channel on such platforms does not attract as many views as mainstream platforms, something is always better than nothing.
The higher the visibility, the better are the chances of conversion.
Add a transcript
Most video marketers do not use transcripts which prevents the video from gaining the desired push.
You can add a transcript to your YouTube videos simply by creating a word document based on the subject in your video.
As the transcript will contain everything that you speak, it is highly likely that some of your spoken words might be popular search keywords.
Tips to create good videos
Do not compromise on the quality of your video, eliminate background noises or other noises. Use a good quality camera, use the right frame, and avoid blurriness and shakiness in your video. It is always better to consult a professional. If you have a tight budget, you can always use online video editing software to create and edit your videos with ease. This software comes with a host of required features to give your videos the professional quality you need.
Use 'Third Graphic', i.e the content running at the bottom of your video in the right manner. It should contain the name of your business, your USPs, product details, etc in simple words that are easier to understand and read and should not overpower your video or the message that you are conveying.
Incorporate modern elements like Virtual Reality(VR). Emerging trends like these tend to make your audiences inquisitive. You can create a VR journey for experiencing your product. Such strategies are quite rare, and thus create a differentiating factor for your video.
Be consistent in your approach. Channels that regularly create and upload content are popular as compared to dormant channels.
Video Marketing Guide: Where to promote your videos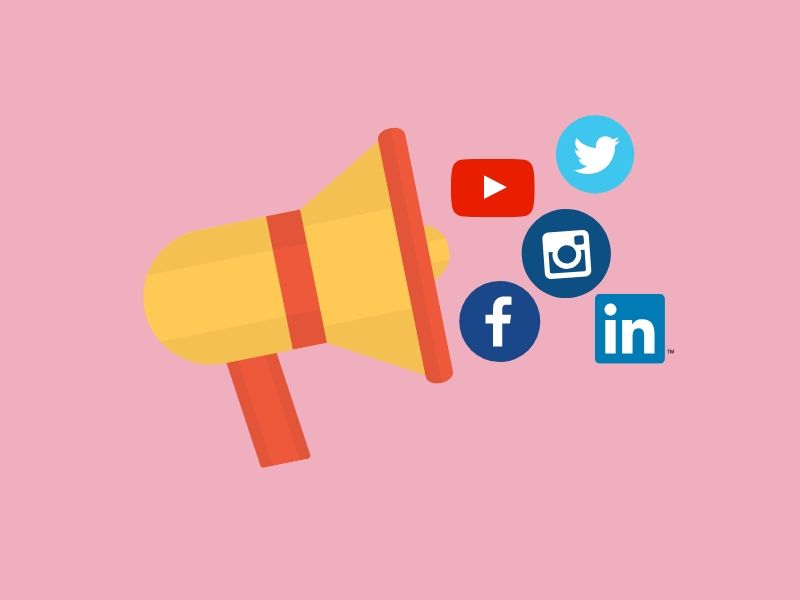 You can create social media campaigns on popular websites like Facebook, and Instagram.
Such campaigns can also include rewards or incentives for sharing your videos.
You can also get into collaborations with different events like TedX, Comic-Con, etc. and play your videos on spaces reserved for ads.
You can also promote your videos as ads on other videos. YouTube these days has a key emphasis on ads, and sometimes shows two ads on videos.
You can strategically place your video and include content at the beginning that compels the audience to watch it entirely.
When it comes to Twitter, pinning videos at the top of your feed ensures a 10X better engagement and conversion rate.
You can also pay Facebook or Instagram to ensure your video shows up under sponsored content.
Lastly, you can also share your videos to popular online communities and forums like Reddit, Quora, etc. where you can directly interact with the audience of your choice.
Conclusion
That's all for the video marketing guide in 2019 and beyond.
Video marketing is not a difficult task, but creating an impactful video marketing campaign is difficult.
Now that you have an idea of the videos that you can use, the strategies you can use, and the platforms on which you can promote your video, you can create video marketing strategies of your own combining multiple strategies.

The right video marketing campaign can help you make a strong impact and thus a higher growth rate for your business.
So without any further ado, bring out the creative animal inside you and start capturing.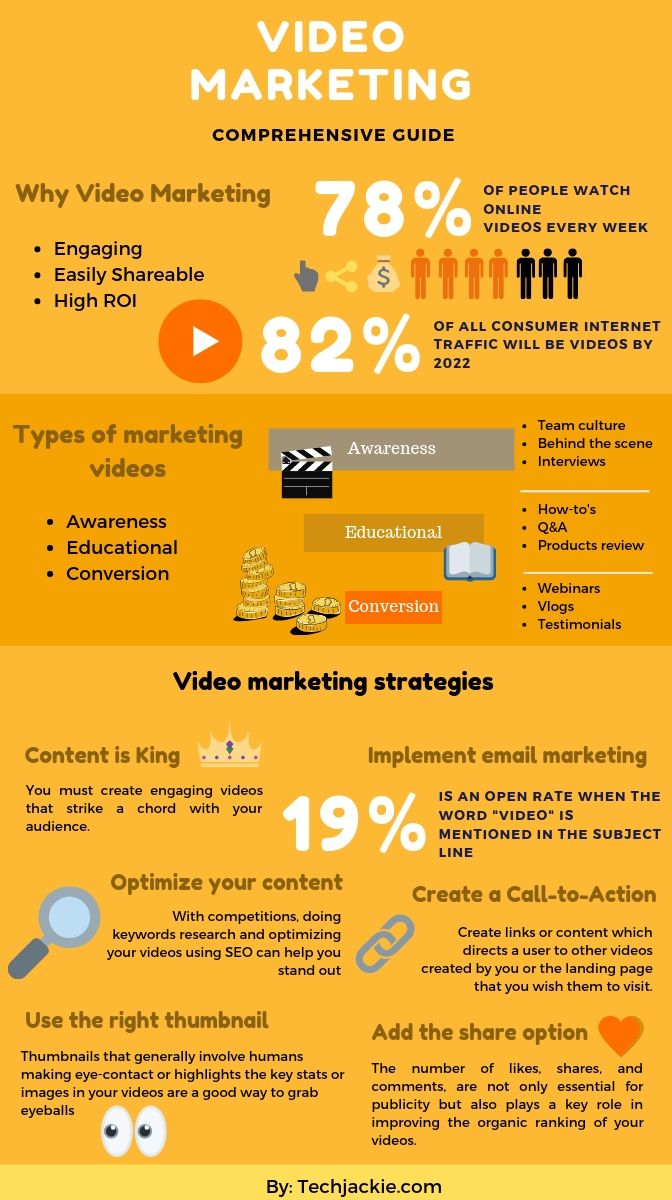 General FAQ
What Is Video Marketing
Video marketing is the marketing approach that utilizes videos as the main channel to market products or services with a goal to create awareness, attract and convert.
Why Video Marketing Is So Popular?
Video marketing is one of the hottest marketing approaches due to the nature of the video itself – engaging, easy to digest and easily sharable across multiple platforms.
What Are The Types Of Marketing Videos?
Marketing videos can be divided broadly into 3 categories, i.e. awareness, educational and conversion.