In this Google AdWords Basics article, I'm going to guide you through steps to get your first ads campaign running for your business's website. Let's Get Started.
What Is Google AdWords
Google AdWords is an advertising system in which advertisers bid on certain keywords in order for their clickable ads to appear on Google search results.
It belongs to the advertising group called PPC advertising. ( For those who haven't checked out what is PPC advertising and why you should go for it, click here.)
Why Google Ads:
Largest PPC network out there
Wide audience reach
Millions of partner websites available
Quick to set up campaigns
Instant results
Smart bidding and daily budgets
Great tools and advanced analytics
With its easy to use interface and countless benefits, you really have no excuse not to use AdWords.
So now you know what is Google AdWords and why you should go for it. Without much further ado, let's dive into the basics to set up your first AdWords campaign.
1. Do Keyword Research
First and foremost is to do research on the keywords which you would want to bid for i.e keywords related to your business.
Tips: When you research keywords, choose the one which has optimal search volume per month and high cost per click (CPC).
This is to ensure that the keyword is not too competitive and at the same time, it's valuable.
There's a tool in Google AdWords called 'Google Keywords Planner' which help you do the research but its kind of difficult to use.
So my advice is to go for a tool called 'Keywords Everywhere'. It's a free Google Chrome extension which shows the keywords search volume per month, CPC and competition ratio

To ensure you find optimal search per month volume keyword, be more specific in the keyword. E.g here, instead of "online marketing", I would type "online marketing in Los Angeles" or "online marketing for local business". This is called "long tail keyword".
Sure, you can use the broader term (head keyword) in your ads campaign, but make sure to include the more specific one also.
I'm going to show you in later steps how to do that.
2. Create a Campaign
The next step in Google AdWords Basics is to actually create your first ad campaign.
Once you have signed up for Google AdWords account ( which is automatically linked to your Google account), you will be redirected to this page: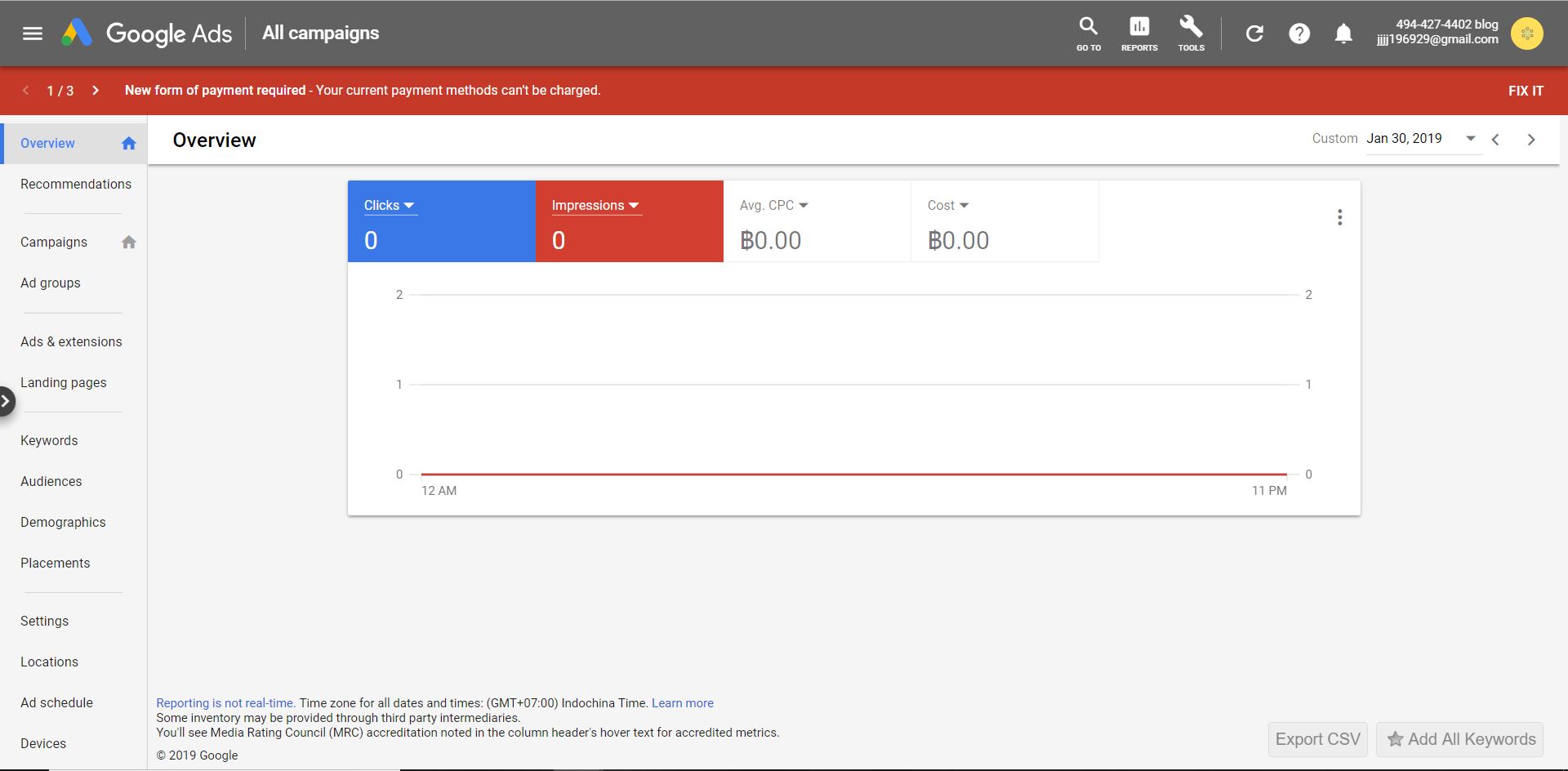 Next step is to click on the 'campaign' menu on the left-hand side and click 'New Campaign'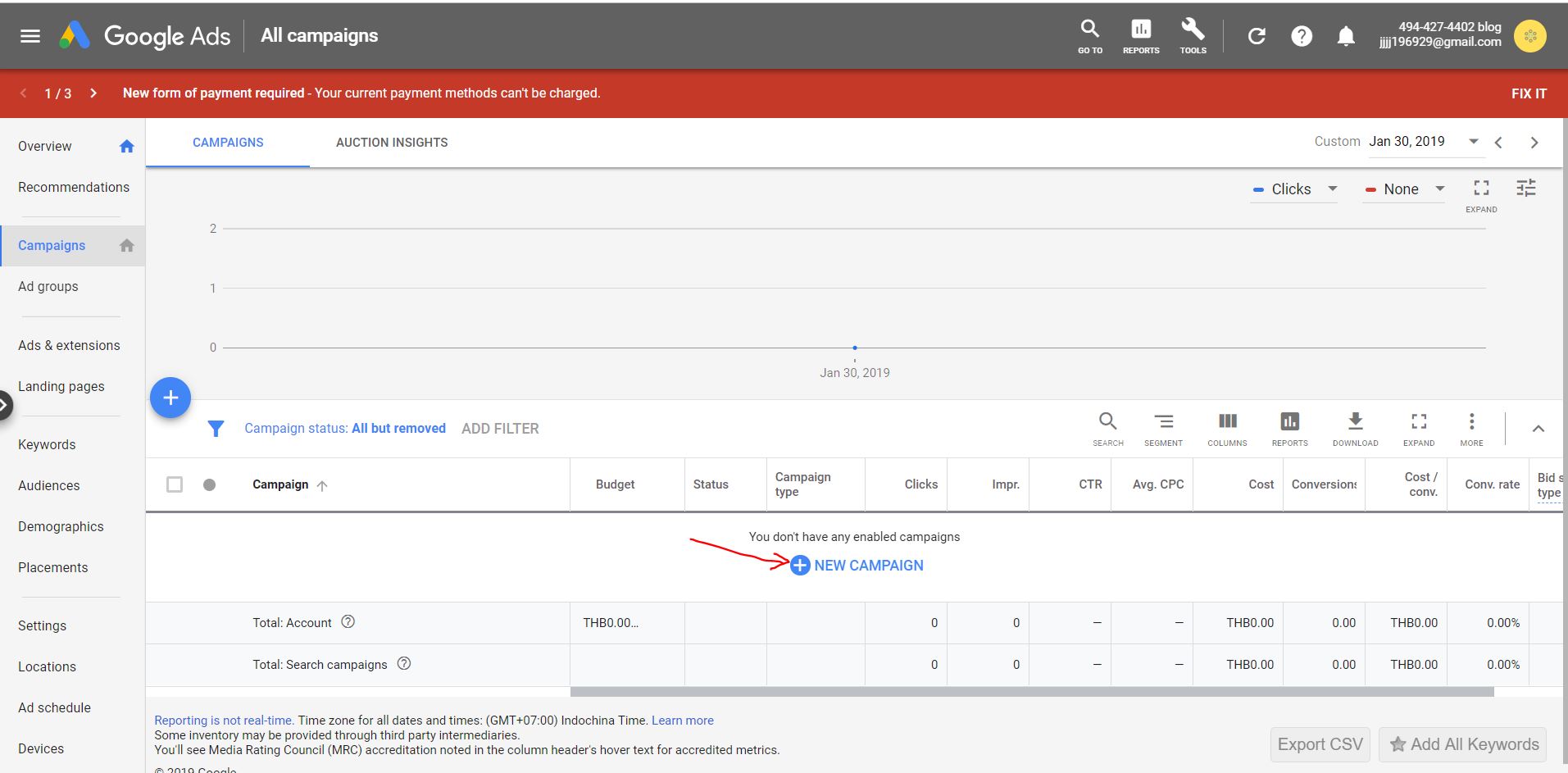 Then you will be redirected to the next page where you will have to choose the campaign goal and type of campaign.
Select the campaign goal as 'sales' and type of campaign as 'search'. Then select various ways of how you want this ad to do. The options given are website visits, phone calls, store visits, and app downloads.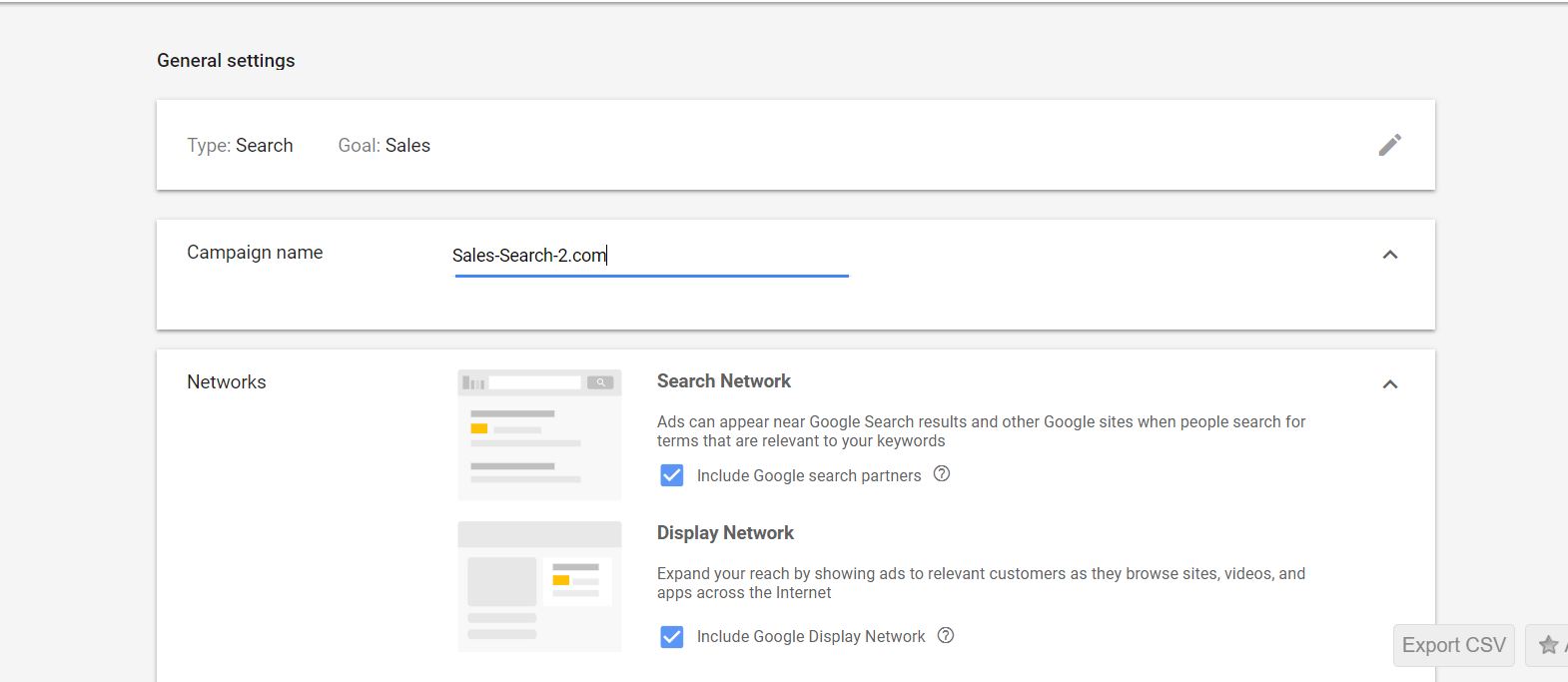 After then you will be redirected to this page where you will have to configure your campaign. First off select your campaign name.
This will not be displayed in the search result. Then select your location which you want this ad to target.
You can have multiple locations selected. My advice is if you have a budget limit, don't go for 'All countries and territories' as this will make your ads too broad.
There may be a chance that many people may click on it (including people who are not interested in your business) and you have to end up paying for it without having made any sales.
Be sure to do research on your target audiences.
After that enter the average money you would like to spend each day. Just a rough estimation.

The next step is to add site links to your ads. Site links are a small extension which gives extra information related to your ads as shown below: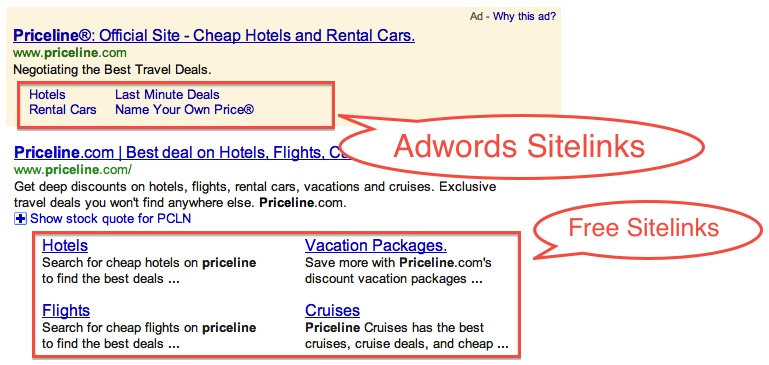 Be sure to add them as this usually increase the conversions up to 15-20% more.
3. Creating Ad Group And Inserting Keywords
Once you have clicked saved and continue, the next page showing up is the section where you will have to create different ad groups.
The ad groups help to optimize your ad campaign even more by further subdividing your campaign into a smaller section for different groups of keywords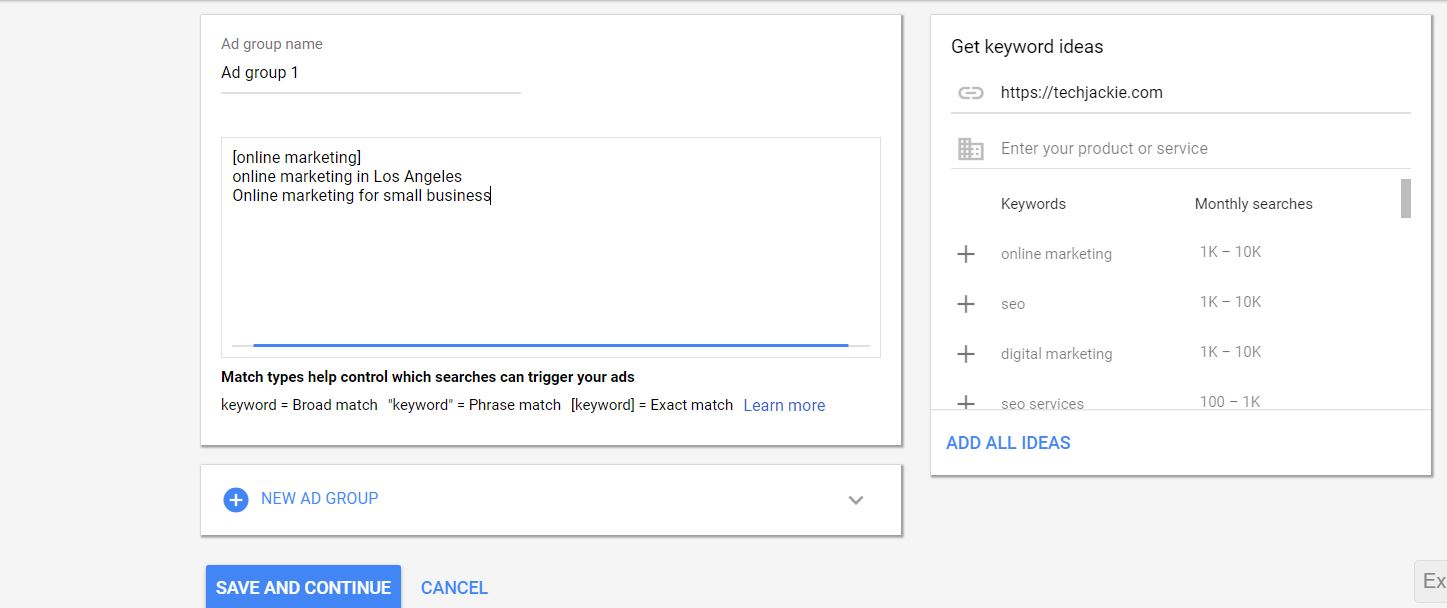 This is where I mentioned above. You would want to start off with a broader keyword which here, in this case, it's 'Online Marketing' then go into a more specific one.
The brackets '[ ]' means that the ads should always be displayed whenever the specific keyword matches the search.
For example, If I don't put the term 'Online Marketing' in the square brackets, my ads may pop up where people search for something like 'Online marketing agency' or something related to it which I don't want it to target.
4. Create The Actual Ads
The final step before you confirm your campaign and add payment method is to create the actual ads itself.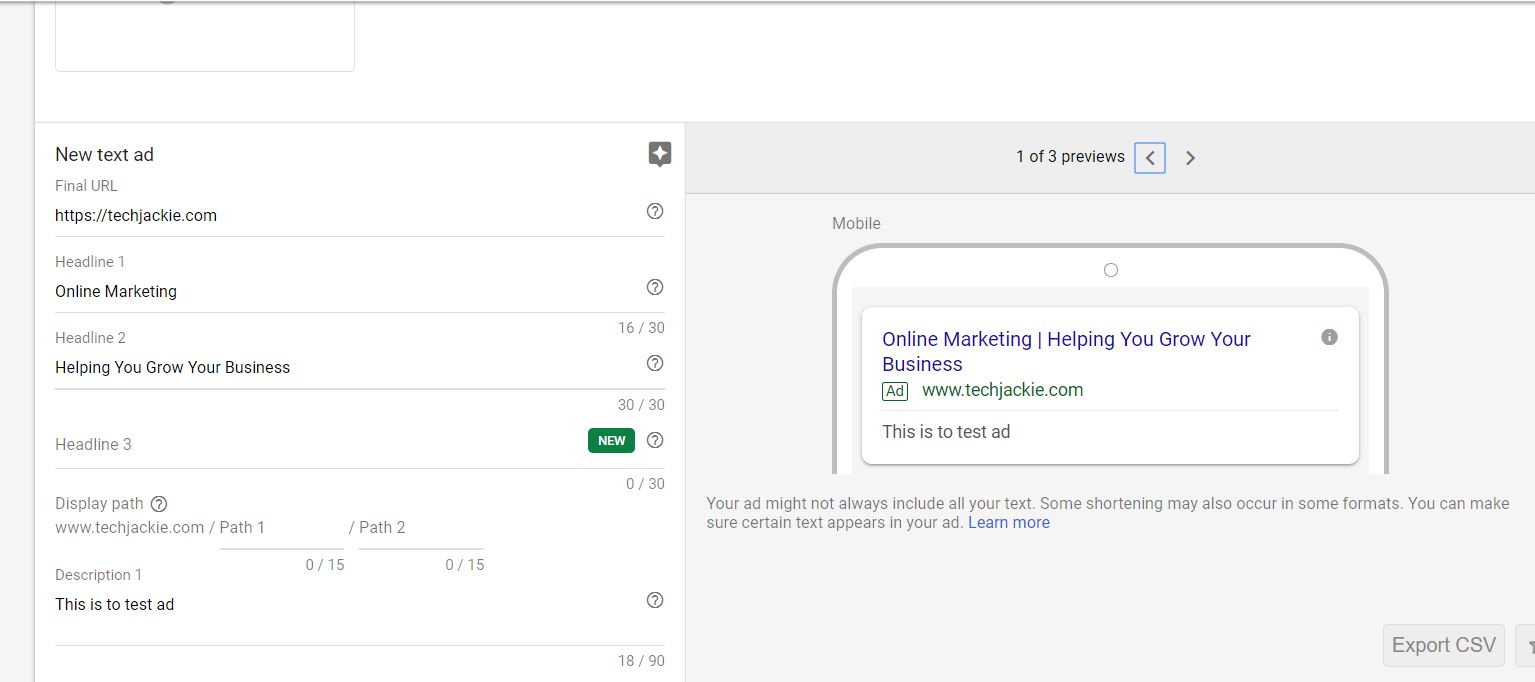 Here is where you have to enter your ads' headlines, description and website's URL. The preview of your ads is on your right-hand side as shown.
Once you're ready, review your preview and click save and continue. Review your information and there you go! Your first AdWords up and running.
Your ads, however, are not live yet. You have to set up your payment method and once verified, your ads' status will change to live.
You can change the status and modify the ads campaign anytime you want.
Bonus
As a gift for sticking around till the end, here is a small bonus for you.
Add negative keywords
This is an important Google AdWords tip. Every time you run a Google ad campaign add negative keywords.
Negative keywords remove certain keywords from triggering the display of your ad. This is a great Google AdWords tip that will boost your conversion rate.
There are several case studies that show that this tip is a great way to increase your conversion rate and grow your revenue.
For example, Eureka SEM worked with a health product company to carry out negative keywords into its campaign.
Negative keywords increase your click-through rate, reduces cost per click and boost your ROI tremendously.
Below are negative keywords you can exclude from your ad campaign:
Free
Cheap
Kijiji
Nude
Naked
Torrents
YouTube
Craigslist
Sex
eBay
Porno
Torrent
For instance, if you are selling " social media post scheduling tool" and you want your website visitors to buy when they visit your landing page or store, you will want to remove the word "free".
Because there are people searching for "free social media post scheduling tools" and they are not ready to buy.
Not only that, when they search for "free social media post scheduling tool", your ad will not show up.
Therefore, to put this Google AdWords bonus into practice, remove negative words when creating your Google ad campaigns.
Conclusion
That's all for Google AdWords Basics you need to set up and run your first ads campaign for your business.
Remember, this is just a basics guideline to get started. For in-depth details, you can try playing around with it or consult us for free.
Just keep in mind that whenever you create any campaign, be sure to know your target well and be specific.
The more specific you are, the better conversion you get and hence more profit.
If you want to learn more about whether you should choose Google AdWords or Facebook Ads for your business, check out my Google AdWords vs Facebook Ads article.
So have you tried setting up your first Google AdWords campaign? Let me know in the comment.